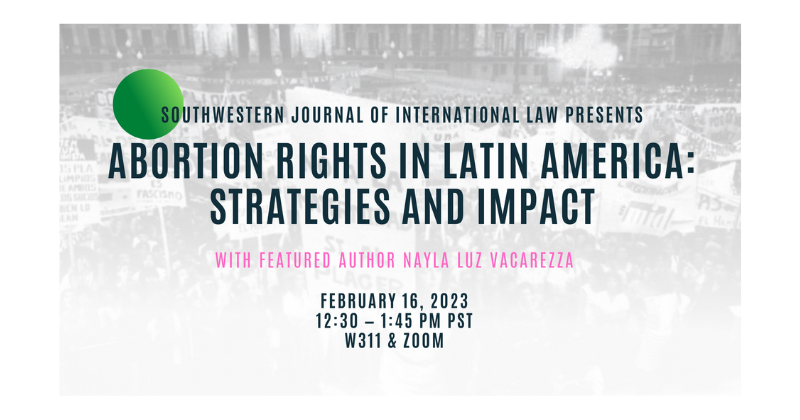 February 14, 2023
Southwestern Journal of International Law Presents "Abortion Rights in Latin America: Strategies and Impact" — February 16, 2023
February 16, 2022
12:30 p.m.– 1:45 p.m.
W311 & Zoom
Register here
Join the Southwestern Journal of International Law for a hybrid event featuring two leading scholars of history and gender in Latin America. Professor Nayla Vacarezza will present her forthcoming article, Abortion Rights in Uruguay, Chile, and Argentina: Movements Shaping Legal and Policy Change, followed by commentary from Professor Donna J. Guy.
Speakers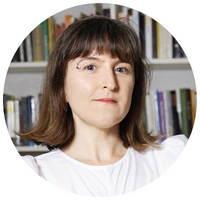 Nayla Luz Vacarezza is an Associate Researcher at the National Council for Scientific and Technical Research (CONICET) in Argentina. She is affiliated with the Gino Germani Research Institute and teaches sociology courses at the Universidad de Buenos Aires. She holds a Sociology degree and a doctoral degree in Social Sciences from the Universidad de Buenos Aires. For more than a decade, Dr. Vacarezza has been doing research about the abortion rights movements in Latin America's Southern Cone, with a focus on strategies for cultural, legal, and policy change. She was Visiting Scholar at the University at Albany and Visiting Fellow at the Institute of Latin American Studies at Columbia University. She is co-author (with July Chaneton) of the book La intemperie y lo intempestivo. Experiencias del aborto voluntario en el relato de mujeres y varones (Marea, 2011). She is co-editor (with Cecilia Macón and Mariela Solana) of Affect, Gender and Sexuality in Latin America (Palgrave Macmillan, 2021). Her last co-edited book (with Barbara Sutton) is Abortion and Democracy. Contentious Body Politics in Argentina, Chile, and Uruguay (Routledge, 2021).
Professor Donna Guy is a Distinguished Professor Emerita of Humanities and History at Ohio State University and Professor Emerita of History at the University of Arizona. She is a specialist in women's history, Latin American history, Argentine history, and economic history. She has published a series of books on the economic and social history of Argentina, including Sex and Danger in Buenos Aires: Prostitution, Family and Nation in Argentina and Women Build the Nation State: Performing Charity and Creating Rights in Argentina 1880-1955. She also served on the editorial boards of international journals such as The Americas, Gender and History, and the Journal of Women's History.