Introducing the Nation's First Online J.D. Program with Full-Time and Part-Time Options Featuring Asynchronous Learning 
Southwestern's ABA-accredited Online J.D. Programs offer a flexible and convenient way to become a skilled attorney. Our cutting-edge curriculum is taught by outstanding faculty and will equip you with the legal, analytical, and practical skills that are key to becoming a successful lawyer. All classes in the program are offered online, and most are offered asynchronously with optional Zoom sessions to allow you maximum scheduling and geographic flexibility. Join a supportive virtual community, engage in interactive discussions, and access an innovative educational experience that empowers you to shape your future in the law on your own terms.
Your future, your schedule 
Southwestern recognizes the challenges of today's aspiring lawyers—time constraints, geographical barriers, and the need for specialized knowledge. Our Online J.D. Program is a pioneer in offering a flexible, asynchronous learning environment combined with a robust, real-world legal curriculum. This first-of-its-kind program is designed to be a game-changer, breaking down barriers and setting a new standard for legal education. We've built this program for the modern learner—for you.  
According to President and Dean Darby Dickerson, "Southwestern's Online J.D. Program is not 'Zoom U.'  It is a carefully considered, thoughtfully designed program that will allow students to interact with faculty and other students meaningfully while providing scheduling and geographic flexibility."
This revolutionary approach means that whether you're diving in full-time or balancing other commitments, you have the freedom to engage with your legal education on your own schedule. Whether you're transitioning careers, have caretaking responsibilities, or just starting out on your professional journey, our program's flexibility ensures that a top-tier legal education is within your reach.
Real-world Legal Experience: Profession-Ready Graduates from Day One 
At Southwestern Law School, the virtual classroom is just the beginning. Our Online J.D. Program offers you direct access to one of the nation's largest externship networks, providing unmatched opportunities to gain hands-on legal experience, whether online, in Los Angeles, or in the area where you live. From prestigious law firms to government service to impactful public interest organizations, our extensive network opens doors to real-world applications of your academic training.  
Our commitment to experiential learning also includes a diverse array of clinical programs, where you'll gain practical lawyering skills while providing quality legal representation to under-represented individuals and organizations. At Southwestern, you don't just graduate with a degree; you graduate profession-ready, equipped with the practical skills that enable you to hit the ground running in any legal setting. 
Making Law School Accessible: A Wealth of Scholarships and Financial Aid Options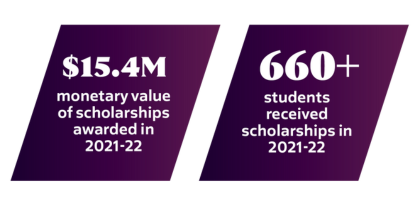 We understand that investing in a legal education is a significant commitment, and we are here to help make that commitment more manageable. Our school offers a wide range of scholarships and financial aid packages designed to make your dream of becoming a legal professional attainable. We understand that this support is particularly important for first-generation learners, who may find the financial aspects of higher education especially daunting. With our scholarship dollars, we're striving to level the playing field, ensuring that all qualified students can pursue a top-notch legal education, regardless of their financial background.  
Whether you're a working professional looking to diversify your skills or a first-generation learner breaking new ground, Southwestern is committed to making law school accessible and affordable for you.
Ready to take the next step?