Judge Harry Pregerson Public Service Legacy Programs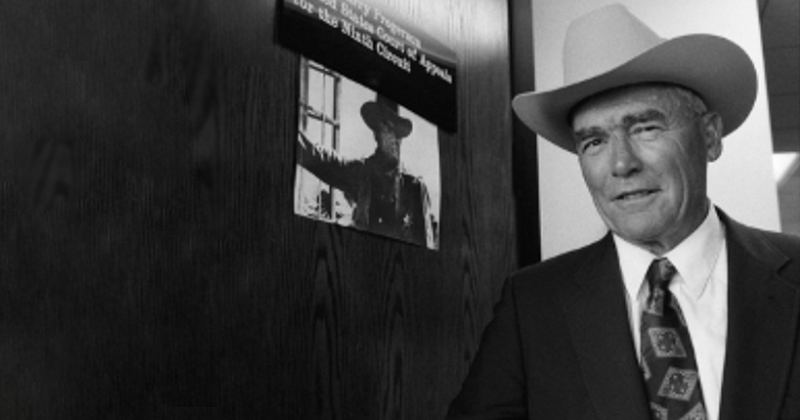 Made possible by a grant from the Rodan Family Foundation in honor of Judge Harry Pregerson.
---
More about the late Judge Harry Pregerson 
The late Judge Harry Pregerson served on the federal bench as a judge of the U.S. District Court for the Central District of California and then the U.S. Court of Appeals for the Ninth Circuit for a combined 50 years.   
A native Angeleno, Harry was born and raised in City Terrace, near Boyle Heights, and graduated from Hollenbeck Junior and Roosevelt Senior High School.  The diversity as well as the poverty of his Depression-era community – Catholic and Jewish, with people of Eastern European, Italian, Japanese, Mexican American, and other backgrounds – would have a profound impact on his views as a lawyer and judge.  "I remember going to school with kids who didn't have shoes," he once said.  "I thought, 'Somebody needs to help them.'"
That somebody turned out to be Harry Pregerson. 
During a lifetime of good works both on and off the bench, Harry charmed or ordered government officials, university presidents, and titans of industry to get what he wanted: desegregated schools for children of color; equal rights for women; dignity for veterans and immigrants; respect for workers; food for the hungry and shelter for the homeless; and clean water, affordable housing, and better transportation for everyone.  Proof of his success can be found in the fact that he is the only federal judge to have named after him a child care center (in the Edward R. Roybal Federal Building), a freeway interchange (where the Century and Harbor Freeways meet), and a wastewater treatment building (at the Hyperion Treatment Plant).   
Thanks to a series of public-private partnerships forged by Harry with the federal government, the Salvation Army, and so many others, the Bell Homeless Shelter and similar facilities were established.  As a result of these partnerships, each day some 1,000 homeless men and women, most of whom are veterans, receive not only food and shelter, but also substance abuse treatment and job training opportunities. 
Harry, who could be seen wearing his trademark cowboy hat and leather boots all over town, was always a leader.  He won a Purple Heart with the U.S. Marines on Okinawa during World War II and later countless awards from community organizations, including an Honorary Doctor of Laws degree from Southwestern Law School. 
After graduating from UCLA, where he became the university's first Jewish student body president, Harry Pregerson earned his law degree at UC Berkeley's Boalt Hall School of Law.  Upon returning to Los Angeles, he set up a storefront practice in Van Nuys at a time when fewer than 40 lawyers practiced in the San Fernando Valley between Topanga Canyon and Lankershim Boulevards.  He represented whoever walked through the door and accepted whatever they could pay.  In 1965, he was appointed to the Los Angeles Municipal Court by Edmund G. (Pat) Brown, and in 1966, he was elevated to the Los Angeles Superior Court.  In 1967, Judge Pregerson was appointed to the U.S. District Court for the Central District of California by President Lyndon B. Johnson, and in 1979, he was elevated to the Ninth Circuit by President Jimmy Carter.
Harry died in 2017 at age 94.  His last words, uttered to Bernardine, a professor of microbiology at Pierce College in Woodland Hills and his wife of 71 years, were as follows: "The hard thing is that I don't have strength anymore to help people." 
And that's the purpose of the Harry Pregerson Public Service Legacy Programs: to give strength to Southwestern law students so they can follow in Harry's footsteps by helping people.