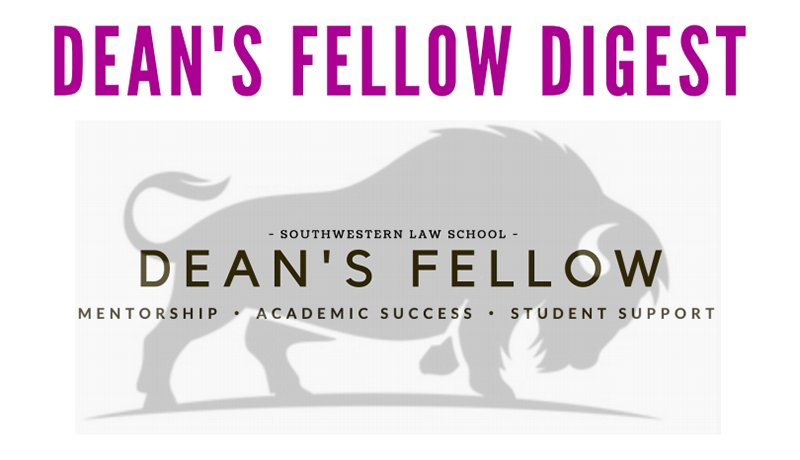 February 17, 2022
Dean's Fellow Digest Issue #45: The Importance of Finding Friendship in Law School
Issue: 2022-02-18
Dean's Fellows consistently strive to support students in realizing their full academic potential, leading ultimately to success on the bar exam and in the workplace. To support all Southwestern students in this goal, the Dean's Fellows created this Digest as a way to check-in at critical times throughout the semester with helpful tips, strategies, and encouragement. 
IN THIS ISSUE:
The Importance of Finding Friendship in Law School
---

"Find a group of people who challenge and inspire you; spend a lot of time with them, and it will change your life." - Amy Poehler
Law school is an exciting journey, and experiencing that journey surrounded by friendship and kindness makes it that much better! Therefore, it is paramount to cultivate friendship during law school because the people you meet are your true allies, those who understand your goals, are cheering for your success, and truly empathize and appreciate the path you are walking.
Most of your classmates will practice law after law school. With some colleagues, you may end up creating lifelong partnerships. In the Los Angeles area, the chance of running into a former classmate in court or having a former classmate as your opposing counsel is relatively high. This will be a nice reunion if you make great connections during law school.
I certainly remember how I met my first law school friend; he continues to be my friend and will remain my friend past law school because of our many shared experiences. My law school friends are my most valuable resource, impossible to find elsewhere. Not only do I rely on them for advice, share my thoughts, and express my feelings, but I also rely on them to make the right decision, be it about what study technique would help me, what classes to take, or simply finding the class Zoom link.
You Know How to Make Friends in Law School

Making friends in law school is just like making friends in high school, college, workplace, or anywhere else. The main difference is that everyone has the same goal in law school—to become a lawyer. You are in this together. We all remember our first day of law school, the first person we said "hi" to. This is how law school friendships start. Law school friends will help, encourage, and challenge you, and be there when you are happy or feeling low. From Bison Bootcamp, Orientation, the first day of class, coffee chats, study groups, intramurals, honors programs try-outs, extended study sessions, venting sessions after finals, casual hangouts, graduation, or doctrinal course practice, your law school friends are there!
Participating in student groups, attending law school extra-curricular activities, and forming relationships with classmates are some of the best ways to make friends in law school. There is no special formula for building friendships in law school; it is essentially the same as in any other circumstance. The main advantage is that you are surrounded by a homogeneous group of people walking the same path as you. Trust your instincts, be open to making new friends, do not judge or criticize, and communicate. Friendship leads to great networking opportunities that will almost certainly impact your law practice career.
Build Friendships, Not Stressors 

Your law school friends are pursuing similar goals, and you want to be surrounded by people who can handle stress, not pile it on. Stress in law school is inevitable. The strict grading curve, student loans, and a worldwide pandemic are only some of the stressors you have likely encountered in law school. Responding with negativity to various stressors will only make the situation worse. Knowing what relationships are healthy for you is crucial. A significant number of your peers will be competitive and ambitious. These are not negative character traits because law school is a competitive environment, and many students share similar personality features. Your law school friends are often those you will reach out to for advice before your family members and acquaintances because they understand you.
Why Making Friends in Law School Matters 

Being a lawyer is a profession—one of the most beautiful and rewarding professions, if you ask me. Your law school friends are your network of future professionals, and you are building your professional reputation starting at Orientation. Your law school friends will be those who you will practice with or against, call for advice, refer cases to, or simply meet for dinner after a busy day.
The practice of law requires discipline, respect, understanding, mutual support, and inclusivity. The friendships you form in law school will impact your life tremendously and motivate you to become a better person and a better future lawyer.
---
*About the Author:
ELENA CORDONEAN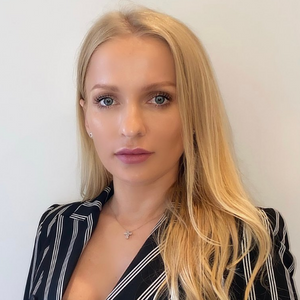 Elena is a 3L Evening student who holds two master's degrees in Political Science and International Relations. At Southwestern, she focuses her academic coursework on civil litigation, appellate, criminal, international, and public interest law. She is fluent in five languages and is interested in building a solid educational background to help her pursue a career at an intergovernmental organization. While attending Southwestern, Elena works as a law clerk for a personal injury law firm where she is involved in all aspects of the pre-litigation and litigation process. In addition to being a Dean's Fellow, Elena also serves as the Academic Chair of the Moot Court Board of Governors. Elena has served as an extern for the Children's Rights Clinic, Teaching Assistant, and Member of the Moot Court Honors Program.
Elena believes that the study of law provides a lifetime of opportunities, invaluable connections, and the ability to attain the highest degree of self-realization. She is excited to help the incoming evening students achieve their goals and enjoy their law school journey!
---
Southwestern Law School Dean's Fellows | Scheduling and Booking Website
Dean's Fellows are upper-division students with strong academic skills who go through a rigorous application and training process. They are an integral part of the Academic Success and Bar Preparation Department. They are carefully selected based on their academic excellence and ability to teach other students best-practice study methods that will help them become acclimated to the study of law. Dean's Fellows meet with students as academic mentors.
Please click HERE to make an appointment with a Dean's Fellow.