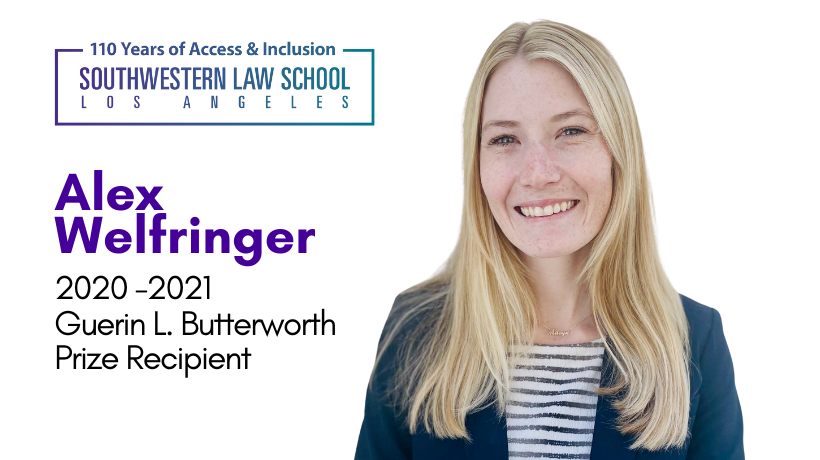 October 21, 2021
Alex Welfringer Awarded 2021 Guerin L. Butterworth Prize
Please join us in congratulating SCALE II student Alex Welfringer on receiving the 2021 Guerin L. Butterworth Prize! The Butterworth Prize is awarded to the SCALE student with the highest grade point average at the end of the first year of SCALE.
 
Alex came to Southwestern after earning her B.A. in Business Administration and M.B.A. from Point Loma Nazarene University. She was drawn to the rigorous two-year SCALE Program because of the opportunity for hands-on learning at an expedited pace.
 
At Southwestern, Alex serves as a Law Review staffer, the Academics Chair and a Senior Advocate for the Trial Advocacy Honors Program (TAHP), a member of the Ninth Circuit Appellate Litigation Clinic, a Dean's Fellow, a Teaching Assistant to Dean Rolnick, Professor Gunning, Professor VanLandingham, and Professor Aronovsky, and as a student leader for the Small Claims Court Clinic. Alex served as an extern with the U.S. Attorney's Office Criminal Division for the Central District of California and will be a summer associate at Holland & Knight's Downtown L.A. Office.
 
Alex is interested in pursuing a career in litigation. Beyond law school, Alex loves spending time with her two-year-old daughter and her husband.
"It is such an honor receiving this award. I am so thankful to Ms. Butterworth and Mr. Franklin for their generosity and kindness. I hope to one day be in a position to give back to the Southwestern community just as they have. I would also like to thank the SCALE Program Faculty, my friends, and most importantly my family for their consistent support. I wouldn't be here without all of you."

- Alex Welfringer, 2021 Butterworth Prize Recipient
 About the Guerin L. Butterworth Endowed Prize Fund:
In 2017, Southwestern announced the establishment of the Guerin L. Butterworth Endowed Prize Fund for the first-year law student in its Two-Year Accelerated J.D. Program (SCALE) with the highest grade point average.  The Fund was established by Mr. Sterling Franklin, a trustee of the Morris S. Smith Foundation and longtime friend of Ms. Guerin L. Butterworth. After finding out that Ms. Butterworth had been first in her class in her first year in the SCALE Two-Year J.D. Program at Southwestern, Mr. Franklin decided to establish the Fund with a $15,000 gift, in her honor.
Learn more about the Guerin L. Butterworth Endowed Prize Fund here.