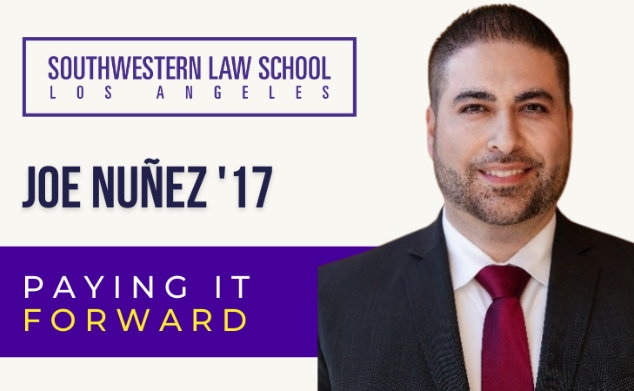 August 3, 2021
Champion Negotiator, Nuñez '17, Pays it Forward
SCALE alumnus Joe Nuñez '17 has been instrumental in the Negotiation Honors Program's success for the past five years. During his time at Southwestern, he was a Regional and National Negotiations Champion. Since his graduation, Joe has continued to give back to the Program by judging and mentoring Southwestern students. Joe, now the Founding Attorney at Westford Law Group, APC, also saw an opportunity to pay it forward by donating $10,000 to help Southwestern students with the expense of the bar exam. 
Most recently, Joe Nuñez '17 awarded Vanessa Barnett a $750 bar stipend to acknowledge Vanessa's domination in advocacy and excellence in leadership throughout her time at Southwestern. 

A HUGE thank you to Joe Nunez for his generosity and continued support of the Program and Southwestern students!