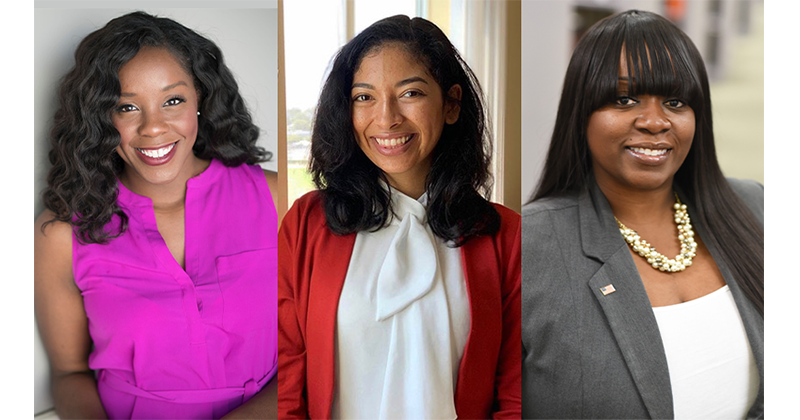 April 2, 2021
Recognizing BLSA Scholarship Recipients
Please join our Black Law Students Association in congratulating 4L Vanessa Barnett, 4L Nicole Bryant, and 2L Tatiana Owens on their scholarships! We are proud to share that all three students were awarded the John M. Langston Bar Association Scholarship. Additionally, Nicole Bryant was named a Black Women Lawyers Association of Los Angeles Foundation Scholarship recipient.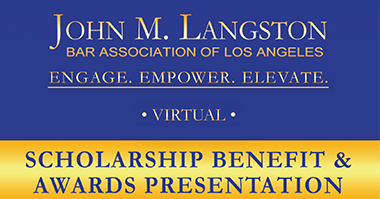 The John M. Langston Bar Association aims to engage, empower, and elevate the professional development of outstanding and deserving law students and young attorneys of color. This year, they awarded over $80,000 in scholarships to exemplary law students of color based on financial need and merit. Vanessa, Nicole, and Tatiana were three of the eleven students selected for this prestigious recognition.
They were presented with the scholarship at the John M. Langston Bar Association's Virtual Scholarship Benefit & Awards Presentation on February 6th, 2021. 
Nyanza Shaw, President of the John M.  Langston Bar Association, wrote,  "Even though they were forced to attend school remotely because of the Covid-19 pandemic, these students continued to excel academically, volunteer and give back to help their local communities, and inspire their peers and all of us."
We are pleased to recognize and celebrate the following BLSA scholarship recipients:
Vanessa Barnett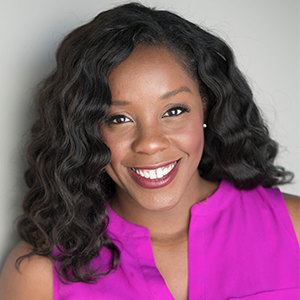 "I am so thankful to receive the John M. Langston Bar Association Scholarship based on my academic achievements and community involvement. I am currently a 4L evening student who works as an entertainment journalist during the day and attends classes at night, but with this generous award, I will be able to commit to bar prep full-time post-graduation. Langston is an exemplary organization that continuously supports and uplifts young Black law students, and I'm so honored to be among the few chosen this year for the scholarship award." 
Scholarship: John M. Langston Bar Association Scholarship
---
Nicole Bryant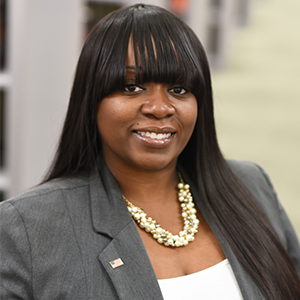 Nicole Bryant is the Special Assistant to the Los Angeles City Civil and Human Rights Department Executive Director and Chief Equity Officer for Mayor Eric Garcetti's COVID-19 Response Team, Capri Maddox.  Nicole has over 15 years of progressively responsible experience managing various governmental projects ranging from vendor contract compliance to suicide prevention.  Nicole also serves as an Analyst to the Los Angeles County Chief Executive Officer. In that capacity, she participates in various executive management workgroups tasked with eliminating racial bias and making recommendations on ways to improve the lives of women and girls. Specifically, increasing gender and racial equity in recruiting and hiring women for public safety and information technology careers.  
Nicole holds a Master of Public Administration and is pursuing a Juris Doctorate at Southwestern Law School, concentrating in Technology Law and Intellectual Property. While in law school, Nicole clerked with the Office of the City Attorney, Superior Court of Los Angeles, and the Office of Los Angeles County Counsel.
Scholarships: Black Women Lawyers Scholarship and Langston Bar Association Scholarship 
---
Tatiana Owens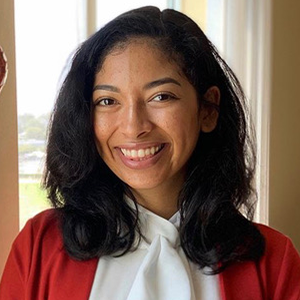 "I am a 2L Traditional Day Student and a mom of a 9-year old boy. I was raised primarily in South Central Los Angeles and Compton. I have faced many obstacles in my journey being a Black and Mexican woman and young mother. One of the hardest was watching my close cousin be incarcerated and the injustices he and my family suffered. This is why I want to become an advocate for my community: to uplift people's voices in the times it matters most. I was awarded the John M. Langston Bar Association Scholarship, which will support my legal education and my clerkship at the Public Defender's office this summer. "
Scholarship: John M. Langston Bar Association Scholarship
Congratulations to all three students on their well-deserved success! 
Latest from the SW LAW BLOG