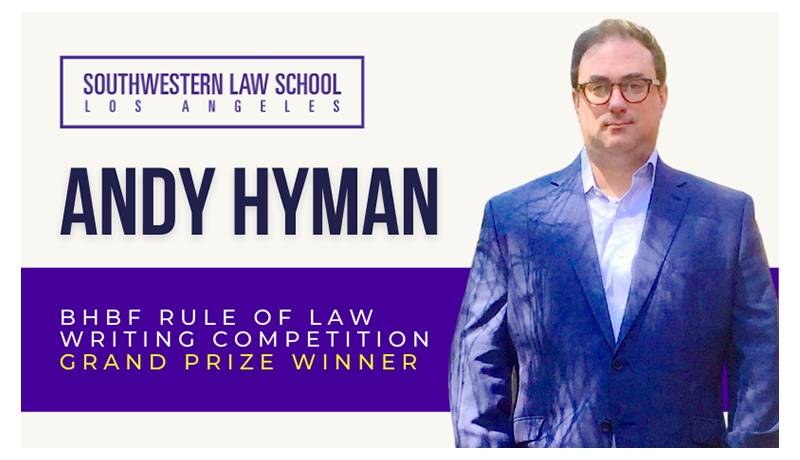 April 7, 2021
3L Andy Hyman Wins the Beverly Hills Bar Foundation Annual Rule of Law Writing Competition Grand Prize
Please join us in congratulating 3L Andy Hyman! His Law Review article, "The Problem with Johnson and Lemond: Irreconcilable Science and the Brady-Napue No Man's Land," was named the Grand Prize winner of the 2021 Beverly Hills Bar Foundation Rule of Law Writing Competition!
This annual competition encourages law students to integrate Rule of Law concepts into their writings. According to the competition website, papers may be on any topic, either directly discussing an aspect of the Rule of Law, demonstrating how the Rule of Law affected the topic, defining the Rule of Law, criticizing the Rule of Law, or demonstrating the economic, social, or political effects of the Rule of Law. 
Here's a sneak peek of his article, as summarized by Andy:
This note examines irreconcilable testimony given by a forensic scientist in two successful murder prosecutions by the same Orange County office—and how judicial applications of Brady v. Maryland and Napue v. Illinois have evolved to frustrate a criminal defendant seeking post-conviction relief based on a prosecutor's failure to disclose previous contradictory testimony by an expert. It proposes an adjustment of the materiality standard when this particular circumstance makes falsity apparent (but difficult to pin to one specific statement), as well as an expansion of a Napue-based precedent to account for the presence of one expert in otherwise unconnected trials. Read the full article here. 
He shared, "The experience of writing this article was everything I hoped it'd be: getting in the weeds with trial transcripts, tracking witnesses through multiple cases, finding startling information hidden in footnotes of opinions, and learning a lot about prosecutorial misconduct, criminal procedure, and evidence—subjects that I hope are central to my future career as a lawyer."
"If that's all I'd gotten out of this process, I'd have been thrilled, but winning this award provides some real validation for the high level of work we get to pursue as Law Review students and staffers, and for the strength of our journals here at Southwestern. And, even better, it might bring more attention to the plight of two criminal defendants who had something pretty disconcerting happen during their trials, and who are both still in prison today. I'm so grateful I had the opportunity to dedicate a portion of my second year at Southwestern to this process and to see it yield such exciting and unexpected results."

- 3L Andy Hyman
Andy is a 3L Traditional Day student pursuing an interest in criminal appellate and post-conviction litigation. He spent his 2L year as a certified law clerk in Southwestern's Youth Offender Parole Clinic and his second summer as a Judge Harry Pregerson Public Service Fellow working at the California Appellate Project – Los Angeles. At CAP-LA, he drafted opening briefs for clients appealing their felony convictions in the Second Appellate District. He has served as a Dean's Fellow, teaching assistant to Professors Kathryn Campbell and Beth Caldwell, and research assistant to Professor Michael Dorff. Andy is currently a Southwestern Law Review Notes and Comments Editor and an extern at the Office of Staff Attorneys for the U.S. Court of Appeals for the Ninth Circuit, working in both the immigration and civil divisions.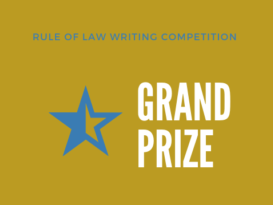 Congratulations, Andy, on your outstanding work! We are so incredibly proud and will be cheering you on when the awards are presented at the  BHBF/ABA April 22nd Law Day event.