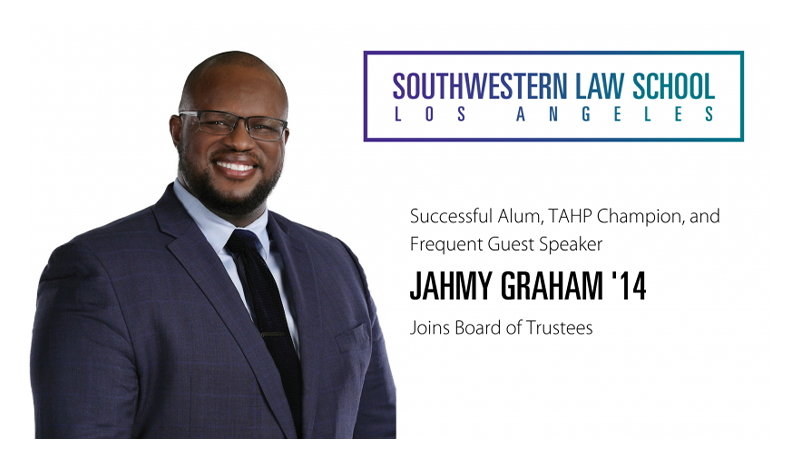 January 19, 2021
Jahmy Graham '14 Joins SWLAW Board of Trustees
Southwestern Law School and Nelson Mullins proudly announce that Jahmy Graham '14 has joined Southwestern's Board of Trustees. Mr. Graham brings something unique to the boardroom. He graduated less than six years ago. Yet, Mr. Graham's superb professional skills and personal attributes have propelled him to prominence as an eminent litigator and law firm partner. And, remarkably, throughout his meteoric rise in the profession, he has continued to stay close to Southwestern and serve the school in multiple ways. As a frequent orientation and event keynote speaker, he is known not only to his former professors and Southwestern administrators, but also to Southwestern students, faculty, and staff alike.
In celebrating this appointment, Board Chair Charles P. Fairchild '09 points out that Jahmy "brings a level of intensity and depth of forethought to the Board that must rival what he uses practicing law.  I look forward to many years with him on Southwestern's Board of Trustees."
The school's Dean and President Susan Westerberg Prager stated: "I was impressed and intrigued by Jahmy when I first heard him speak as the student speaker at my first Commencement as Southwestern's Dean in 2014. At our 2019 Orientation, as the keynote speaker, he moved students with his 'create your own path' message. This year, he delivered the Orientation keynote address remotely with a 'Mamba Mentality' print in the background. We collectively forgot our physical separation because Jahmy united us in mind, mission, and spirit."
Never one to seek recognition, Mr. Graham stated: "I am deeply honored and humbled to have been nominated for, and ultimately elected to, Southwestern's Board of Trustees. Southwestern is an extraordinary institution and I am honored to have received my legal education there. As a member of the Board, I hope to continue to help advance the law school's mission, help our students succeed, and give back to the broader community."  
At Nelson Mullins, Mr. Graham handles cases involving many industries and issues, including the automotive industry, healthcare, retail, technology, contract, warranty, tort, securities, false advertising, and product liability. His growing résumé includes successfully litigating consumer class actions involving alleged false advertising claims; his experience also extends to arbitration and general civil defense. Mr. Graham has also participated in immigration, civil rights, and family law pro bono cases. Before joining Nelson Mullins, Jahmy was a litigation associate at Morgan Lewis.
As a student, Jahmy served on the Southwestern Law Review staff and the Trial Advocacy Honors Program (TAHP) board, through which he garnered multiple distinctions, including Regional Champion and National Semi-finalist in the American Association for Justice, Student Trial Advocacy Competition. Jahmy externed at the Federal Court of Appeals of Argentina and the U.S. District Court for the Central District of California. In 2014, Jahmy received the American Board of Trial Advocates' Los Angeles Chapter Award of Excellence in Preparation for Trial Practice.
Jahmy Graham's appointment to the Board of Trustees is a stand-out moment of 2020. Feel free to send congratulatory notes and comments to Co-Mark@SWLaw.edu - we will forward them to the Board.  
Latest from the SW LAW BLOG