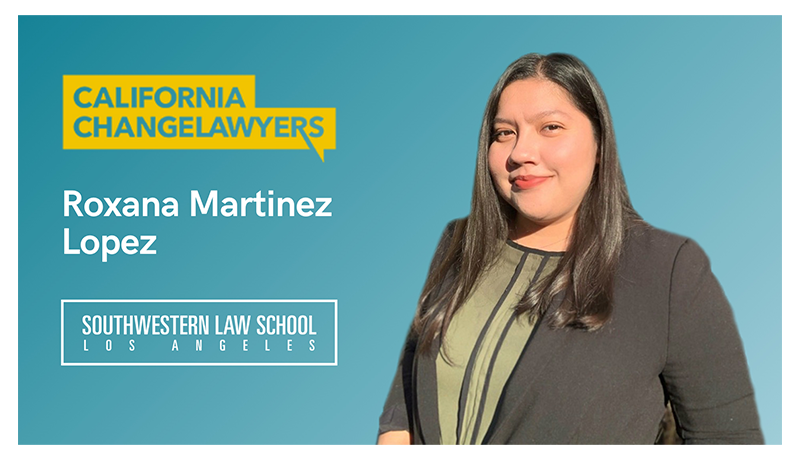 December 3, 2020
1L Roxana Martinez Lopez Awarded 2020 California ChangeLawyers Scholarship
Congratulations to 1L Roxana Martinez Lopez on becoming a 2020 California ChangeLawyers Scholar! Roxana was selected for her dedication to creating a better legal system by serving as an advocate and ally to marginalized communities. Her scholarship is sponsored by Manatt, Phelps & Phillips LLP.  
California ChangeLawyers, formerly known as the California Bar Foundation, is a statewide foundation that empowers the next generation of lawyers, judges, and activists. Their mission is to build a better justice system for all Californians. The California ChangeLawyers scholarships support diverse law students in their pursuit of higher education and a legal career.  Since 1990, the foundation has distributed 1208 scholarships. In 2019, the foundation awarded $435,000 in scholarships to 55 students, of which almost two-thirds were women, and nearly all were first-generation law students. 
Roxana grew up in a low-income indigenous Oaxacan community that shaped how she views access to opportunity and legal resources. She is a ChangeLawyer because her experience of facing economic barriers, lack of resources, and distrust of the legal system has moved her to commit to making a difference within the legal world. 
Roxana graduated from UCLA with a B.A. in Political Science and Chicana/o Studies and a Minor in Labor and Workplace Studies. While attending UCLA, she worked as a UCLA BruinCorps tutor for English Language Learners, as an SEIU summer organizer, and as a student assistant at the UCLA School of Law. She also volunteered at various organizations, including JusticeCorps and CARECEN.  
"As an attorney, I hope to attain the tools to provide disadvantaged communities with the legal assistance and representation that we have often been deprived of within society's institutions." 

- Roxana Martinez Lopez, 1L
See Roxana in the 2020 ChangeLawyers Scholars video here: 
Please join us in congratulating Roxana on her scholarship! We are so proud, and we can't wait to see how she'll grow as an advocate! 
Latest from the SW LAW BLOG