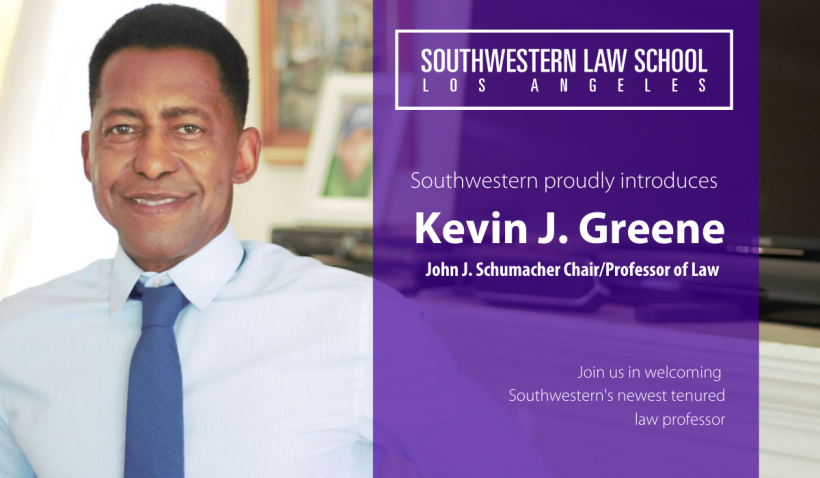 November 20, 2020
SW LAW Adds High-Profile Scholar to Faculty
Even during a pandemic, faculty recruitment perseveres and delivers an amazingly qualified and influential scholar and practitioner, Kevin J. Greene.  Professor Greene is a nationally recognized entertainment and intellectual property law scholar and an expert witness consultant for copyright, trademark, publicity rights, and entertainment contract disputes. 
Professor Greene's scholarship has garnered national and international recognition in the area of intellectual property ("IP") law, particularly his pioneering work on African-American music and inequality in copyright law. His article on abusive trademark litigation, published in the Harvard Journal of Law and Public Policy has been the centerpiece of law conferences at Syracuse Law School and NYU. Greene's copyright scholarship is cited in numerous legal publications and has been cited in Congressional hearings. His current project explores intellectual property in the context of hip-hop music.
"The joys of teaching—and learning from— students are unmatched. The seeds of learning we plant today, with justice as our banner, blossom bright with possibilities for a better tomorrow."
Before becoming a law professor, Professor Greene practiced law in New York at the premier law firm of Cravath, Swaine & Moore, where he represented high profile companies such as Time Warner and HBO in litigation matters. He later joined New York's top entertainment law boutique firm, where he represented clients such as film production companies, including Director Spike Lee's 40 Acres and a Mule film company, iconic music artists including Harry Connick, Jr., Bobby Brown, and the seminal rap group Public Enemy. 
Professor Greene is slated to teach Contracts and Copyright beginning in Spring '21. In the past, he has also taught  Intellectual Property, Entertainment Law, Music Law, Publicity Rights, International Entertainment Law, and IP in the Cannabis Industry.
What Southwestern folks are saying:

"KJ Greene is a person of tremendous experience, ability, and accomplishment; one who has also generated path breaking insights about how copyright law operates.    When these qualities are present in a person who also loves teaching and advancing the career goals of his students, you have the perfect faculty member---one of those triple threats of the law school world."

~Susan Westerberg Prager
Dean / Chief Executive Officer

~~~

"A dynamic and inspiring teacher and a cutting-edge and influential scholar, Professor Greene is a tremendous addition to Southwestern Law School and the Biederman Institute.  I've known and admired K.J. for many years and I couldn't be more delighted to welcome him to our faculty."

~John Tehranian
Paul W. Wildman Chair / Professor of Law

~~~

Professor Kevin J. Greene's unique balance of highly accomplished intellectual property scholarship, pioneering work on African American music and inequality in copyright law, and big firm entertainment law and litigation experience is an incredible addition to the Southwestern Law School / Biederman Institute community. We are honored and delighted to welcome Professor Greene and [further] expand our robust entertainment, sports, music and media law program.

~Orly Ravid
Director, Biederman Entertainment & Media Law Institute / Associate Professor of Law /
The Film Collaborative (TFC) - Founder
Welcome, Professor Greene. The entire Southwestern community is honored to welcome you into the bison family and cannot wait to meet you IRL as soon as it is safe.
Please click here to view Professor Greene's faculty profile, including his impressive list of publications, achievements, and pundit topics.