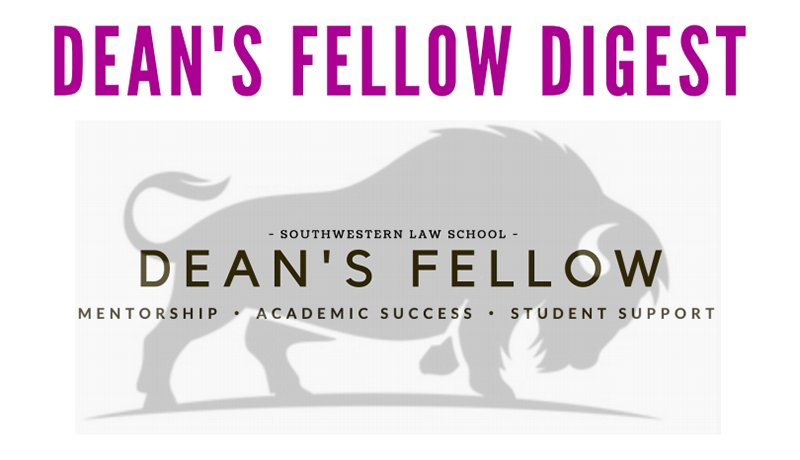 November 12, 2020
Dean's Fellow Digest Issue #20 - Professional Email Etiquette
Issue: 2020-11-12
Dean's Fellows consistently strive to support students in realizing their full academic potential, leading ultimately to success on the bar exam and in the workplace. To support all Southwestern students in this goal, the Dean's Fellows created this Digest as a way to check-in at critical times throughout the semester with helpful tips, strategies, and encouragement. 
IN THIS ISSUE:
Professional Email Etiquette
---
Professional Email Etiquette
By: Lilian Zohrab*

Email communication has become a predominant form of communication in professional and academic settings. Our email behavior could be the difference between building an important professional relationship and receiving a call from HR. Here are a few tips on composing professional emails.
SUBJECT LINE
Since we send and receive many emails on a daily basis, some emails could be overlooked or ignored. The subject line is your opportunity to grab the attention of the recipient and to ensure your email is read. The subject line should be a few words that convey the purpose of your email. Think of this as your headline. Also, use relevant keywords to ensure that you and your recipients could easily search for the email in the future.
Request for Recommendation
Meeting Request
Thank You
ORGANIZATION
Think of email organization like a multi-layered cake. The layers include a greeting, an opener, the body of your message, a closer, and your signature block.
GREETING
Regardless of the length or formality of the email, always include a greeting.
The standard for formal emails is to use Dear. In less formal emails, you could use Hello or Good Morning/Afternoon.
Generally, it's best to follow the salutation with the recipient's name, if you have it, and to use their appropriate title, such as Mr., Ms., or Dr.  If you prefer a gender-neutral approach, you could simply include the recipient's full name.
If you don't have the recipient's name, you could use Sir or Madam, or replace the salutation with To whom it may concern.
End the greeting with a comma or colon as appropriate for the formality of your email.
Good Morning Dr. Greene,
Dear Ms. Grey:
Hello Professor Smith,
OPENER
The opener is where you highlight the main purpose of your email in one or two sentences.
You could choose to begin with a warm statement or show of appreciation.
It was great to meet you at (event) yesterday.
I appreciate you taking the time to help me with the Blank Project.
I hope you are well.
Thank you for taking the time to meet with me yesterday. 
Whether you are requesting a task, meeting, or response, state it here. Readers often skim emails. Be clear, concise, and direct to ensure the reader does not overlook the main objective.
Please submit your Blank Report by Thursday, November 5, 2020.
Please provide feedback on the attached report.
This is in response to your request to information.
BODY
The body of your email is the main course. This is where you include details.
Check your tone. An email may seem passive-aggressive to a reader, even if unintended.
Review your word choice and punctuation.
Replace negative terms with positive terms.
Limit bold and underline. Use those features if you must emphasize strict deadlines.
Avoid all capital words. it may come across as shouting.
If you are re-requesting a meeting, include your availability in the message.
Keep your email short to hold the readers' attention. Only include essential information.
Provide deadlines when possible and avoid ambiguous durations, like as soon as possible.
Avoid formatting sentences as questions.
 Instead of this…

 Try this…

Can you review this report?

Please review this report.

OR

Your feedback would be greatly appreciated.

Can you make it to this meeting?

Please provide your availability for the dates and times listed below.
CLOSER/CALL TO ACTION 
The closer may be similar to the opener. Following the body of your email, include one or two sentences to emphasize your main point. Again, assuming the reader skimmed your email, what did you want them to take away with regard to next steps?
I look forward to meeting you on Thursday, November 5, 2020, at 11:00 a.m.
Please review the Blank Report and provide your feedback by Friday, November 6, 2020.
Please let me know if you are available to meet with me on (date) to discuss (issue).
SIGN OFF 
End your email with a sign off consisting of one or two words that align with the purpose or formality of your email immediately before your signature block, followed by a comma.
Sincerely,
Thank you,
Appreciatively,
Respectfully,
SIGNATURE BLOCK
The signature block is essentially made up of your name and contact information. Signature blocks may differ depending on your organization, but typically mirror information you would see on a business card. Here is some information you could include: 
Full name, including applicable titles
Preferred pronouns
Title and department
Company name
Company address
Company email
Company phone number
Company fax number
Disclaimer
Banner
Logo
* Most email services allow you to automatically embed a signature block into every email you compose. Follow this link for directions on how to set up an automatic signature block on Outlook.
PROOFREADING
Always proofread your email before you click send.
Completeness Make sure your message is complete and that you've entered the correct recipients in the To, Cc, and Bcc sections.
Wait until you are ready to send before adding recipients in the To, Cc, and Bcc sections. That way, you're safe if you prematurely click send.
Proofread Double-check spelling, grammar, and punctuation.
Once you've composed the email, save it as a draft and come back to it at a later time to review it with fresh eyes. You may catch an error you missed before.
Timing Aim to respond to emails within 48 hours.
If you plan to be away for a long period, enable automatic responses. For directions on how to set up automatic messages on Outlook, check out this link.
Aim to send emails at an appropriate time, typically during regular business hours.
Font Style Avoid colorful or playful fonts. They could be distracting and unprofessional. Choose a simple font, such as Times New Roman or Arial, and keep it at about 12-point font.
RECALLING MESSAGES
Face it… We've all sent an email to the wrong person or found an error after clicking send. Luckily, some email services allow you to recall unread messages. For directions on recalling unread messages in Outlook, check out this link. If your email service does not provide a recall feature, simply forward the email to the same recipient, state the error, apologize, and clarify.
---
LILIAN ZOHRAB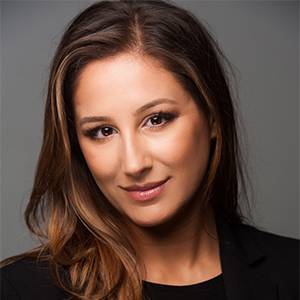 Lilian is a 2L Evening student who graduated from Cal State Fullerton with a B.A. in Sociology. She currently works full-time for the County of Los Angeles Human Resources Department and volunteers for the County of Los Angeles District Attorney's Office. Lilian intends to complete a concentration in Criminal Law to advocate for victims of violence.  
Lilian has worked full time throughout her academic career. She knows what it feels like to have a busy schedule and is excited to make herself available to help you work through yours, as well. Lilian looks forward to being a resource for you as you dive into your first year at Southwestern. 
---
Southwestern Law School Dean's Fellows | Scheduling and Booking Website
Dean's Fellows are upper-division students with strong academic skills who go through a rigorous application and training process. They are an integral part of the Academic Success and Bar Preparation Department. They are carefully selected based on their academic excellence and ability to teach other students best-practice study methods that will help them become acclimated to the study of law. Dean's Fellows meet with students as academic mentors.
Please click HERE to make an appointment with a Dean's Fellow.