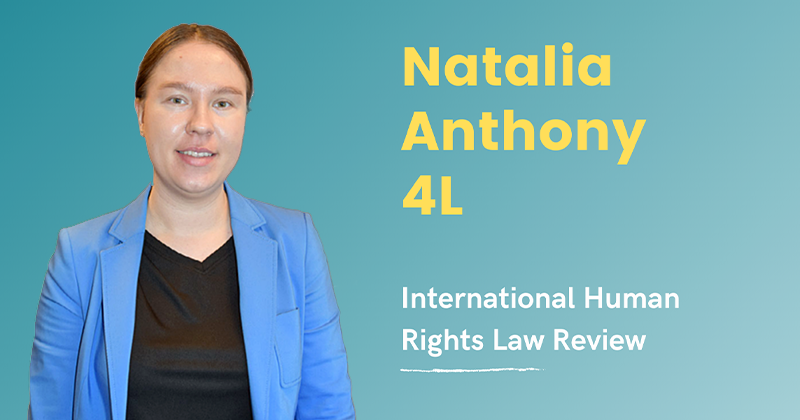 November 17, 2020
4L Natalia Anthony Publishes Paper in the International Human Rights Law Review
Congratulations to 4L Natalia Anthony! Her paper from Professor Miller's International Human Rights Seminar class was recently accepted and published in a peer-reviewed journal, The International Human Rights Law Review, published by Brill.
In Natalia's article, "Menstrual Taboos: Religious Practices that Violate Women's Human Rights," Natalia looks at the major religions of the world and highlights the different restrictions they impose on menstruating women. She argues that menstrual prohibitions based on religious grounds present a unique threat to women's human rights. 
"Even though I acknowledge that freedom of religion is an important human right, I contend that, when it comes to a natural biological process like menstruation, the rights of women must prevail in the clash between women's human rights and freedom of religion." 

- Natalia Anthony, 4L
She shares, "I hope that this paper will shed some light on an often unspoken topic about restrictions that various religions impose on menstruating women. I also hope that my paper will bring attention to an important problem of gender-based discrimination in the name of religion. I am grateful to Professor Jonathan Miller for introducing me to the exciting world of international human rights law and for his invaluable guidance and feedback on this paper." 
Professor Miller also had nothing but words of praise for Natalia. He commended her on her writing skills and well-deserved recognition. 
"Natalia is an amazing writer who is exceptionally good at organizing her arguments. Everyone in the class recognized that she was going to produce a great piece as soon as she shared her outline, and it was natural for a professional journal to publish her work even though she is still a student. She is incisive, thorough, and it shows in her work."
We could not agree more with Professor Miller. It is an incredible achievement that her paper has been published before she even graduates. We are so very proud! Please join us in congratulating Natalia on her publication!