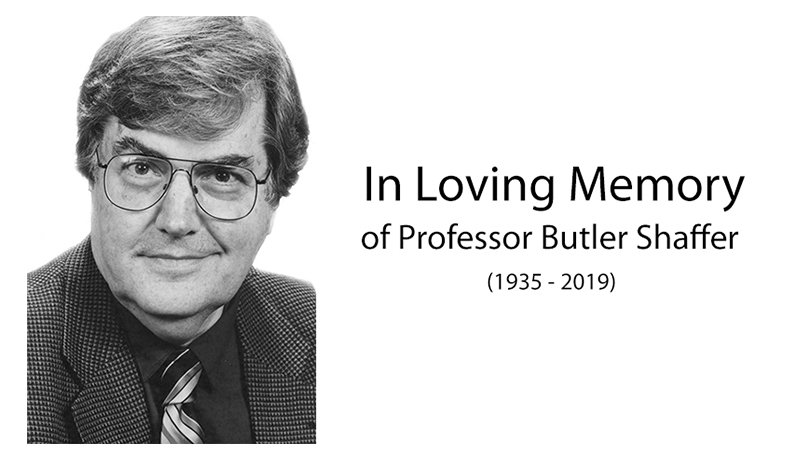 January 14, 2020
Remembering Professor Emeritus Butler Shaffer
It is with great sadness that we share with you the passing of Professor of Law Emeritus Butler Shaffer. He passed on December 29, 2019, surrounded by family. Professor Shaffer's ashes will be placed in a bench in Wyuka Cemetery in Lincoln, NE. 
Following graduation from law school, Professor Shaffer was a labor relations consultant to the Midwest Employers Council in Lincoln, Nebraska, and went on to establish a private law practice in Omaha. He subsequently joined the firm of Nelson, Harding, Marchetti, Leonard & Tate, and then began a career in academia at the University of Nebraska College of Business Administration where he taught courses in business and law.
Professor Shaffer joined the Southwestern faculty in 1977. Over the years, his courses included Administrative Law, Antitrust Law, Informal Systems of Order Seminar, Property, Property Transactions Practice, and SCALE courses in Legal Reasoning, Possession and Ownership, and Property Transactions Practice. In 2002, he was named as the Irwin R. Buchalter Professor of Law in recognition of his outstanding contributions to legal education and scholarship. In 2011, he received the Excellence in Teaching Award, and in 2015, he took Emeritus status.
---
Professor Shaffer will be dearly missed. He has touched the lives of so many while at Southwestern. Our sincerest condolences to his family and friends during this difficult time.