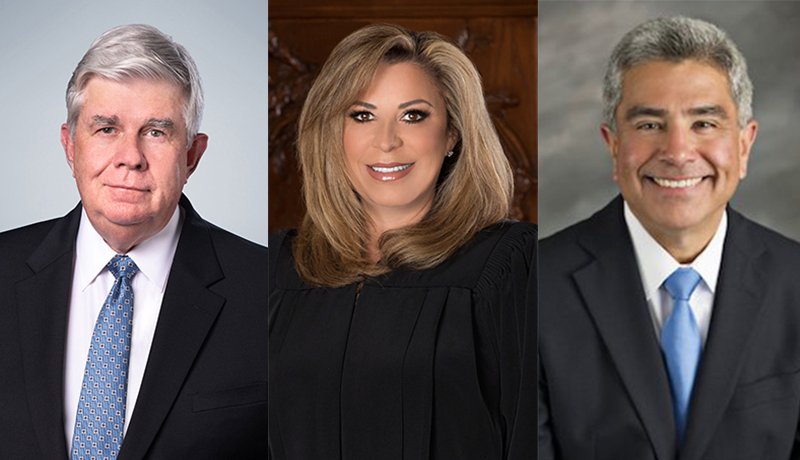 January 21, 2020
Annual Judges Reception - January 29th, 2020
Southwestern Law School is proud to host our Annual Judges Reception celebrating our distinguished alumni and honorees on Wednesday, January 29th, 2020. 
This year, we will be honoring Justice Abbi Silver '89,  Judge Scott Gordon '85 (Ret.), and Judge Philip S. Gutierrez.
Meet our honorees: 
---
Judge Scott M. Gordon '85 (Ret.), Superior Court of Los Angeles County
Judge Scott M. Gordon serves as a neutral with Signature Resolution in Los Angeles. He was appointed as a Judge to the Los Angeles County Superior Court in 2010, after serving as a Court Commissioner from 2002 to 2010, and was a Superior Court judge until August 2019. In his last assignment, he was in the Family Law Division in a Long Cause Court handling complex family law trials and settlement conferences. He was the Supervising Judge of the Criminal Division. He served as the Assistant Supervising Judge of the Criminal Division and the Assistant Supervising Judge and Supervising Judge in the Family Law Division. In 2016, Judge Gordon was selected by the Chief Justice of California to serve as a member of the Judicial Council of California. In 2017, the Chief Justice of California appointed him as a member of the Chief Justice's special working group on Bail and Pretrial Detention Reform. 
Prior to his election to the Los Angeles Superior Court as a Court Commissioner, Judge Gordon served with the Los Angeles County District Attorney's Office for sixteen years and as a police officer and detective for the Santa Monica Police Department. While a Deputy District Attorney, Judge Gordon served in a variety of assignments, including Central Trials, Sex Crimes and Child Abuse Division, Stuart House, Special Investigations (SID), and investigating and prosecuting law enforcement officer and public official misconduct cases. In SID, he served on the "Roll-Out Team" responding to officer-involved shootings. He is one of the founding members of the Stalking and Threat Assessment Team.
Judge Gordon is being honored to recognize his seventeen-year career as a bench officer and his substantial contributions to Southwestern over the last thirty years as an adjunct law professor. 
---
Judge Philip S. Gutierrez, U.S. District Court for the Central District of California
Judge Gutierrez was appointed to the United States District Court for the Central District of California by President George W. Bush in 2007. He has participated in the Court's Patent Pilot Program, which was designed to help enhance the District Court Judges' expertise in patent cases.  
Judge Gutierrez was first appointed to the bench in 1997, when California Governor Pete Wilson appointed him to the Whittier Municipal Court. He served as a Judge of the Los Angeles Superior Court from 2000 to 2007, following the unification of the Los Angeles Court System.  Prior to serving on the Superior Court, Judge Gutierrez was in private practice. Following his graduation from law school, Judge Gutierrez worked as an associate at Wolf, Pocrass & Reyes. From 1986 to 1988, Judge Gutierrez worked at Kern & Wooley, and in 1988, he joined Cotkin and Collin, where he became managing partner of the Santa Ana offices. 
Judge Gutierrez is being honored for his impact on Southwestern Law students and graduates by hiring them as externs and law clerks, including his first federal law clerk, Dawn Utsumi '06, and most recently Lindsey Hay '16 for the 2017-2018 term. 
---
Justice Abbi Silver '89, Nevada Supreme Court
Justice Abbi Silver was elected unopposed to an open seat on the Nevada Supreme Court in November 2018. Nevada Governor Brian Sandoval appointed Justice Silver as one of three judges to the Inaugural Court of Appeals of Nevada in December 2014, and she was elected to the seat in November 2016. In January 2017, Governor Sandoval swore her in as the first female Chief Judge of the Nevada Court of Appeals. Also in January of 2017, the Nevada Supreme Court appointed Judge Silver to the Nevada Standing Committee on Judicial Ethics. 
She is the only judge in Nevada's history to be elected to every court in Nevada's court system. She was elected to the Las Vegas Municipal Court in 2003, the Las Vegas Justice Court in 2006, and elected to the Eighth Judicial District Court in 2008, and again in 2014. Before serving as a judge, she worked as a judicial law clerk for the Honorable Earle White, Jr., an Eighth Judicial District Court judge, and spent almost 14 years at the Clark County District Attorney's Office, with her last assignment as the Chief Deputy District Attorney of the Special Victims Unit. During her tenure at the DA's office, she tried more than one hundred jury trials-specializing in capital murder cases, sexual assault cases, child abuse cases, and domestic violence and stalking.
Justice Silver is being honored for becoming the first alumna to serve as a state supreme court justice and thereby shining a national spotlight on Southwestern.
For more info, please visit www.swlawjudges20.com