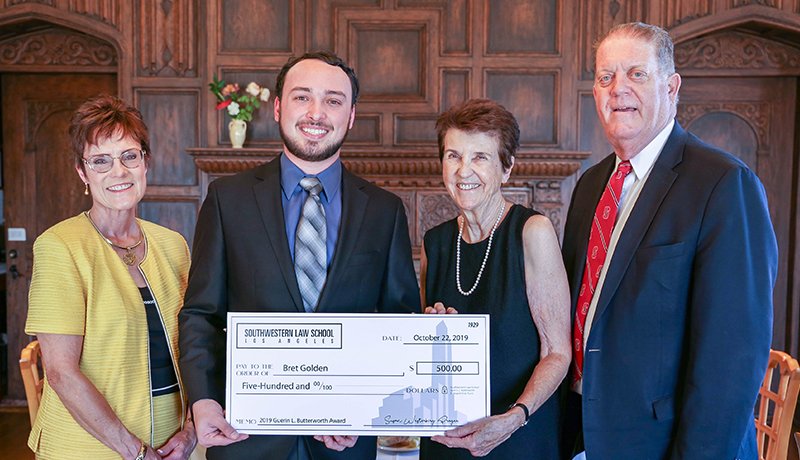 October 24, 2019
Bret Golden Awarded 2019 Guerin L. Butterworth Prize
Congratulations to Bret Golden on receiving the 2019 Guerin L. Butterworth Prize! The Butterworth Prize is awarded to the SCALE student with the highest grade point average at the end of the first year of SCALE.
The award was presented in an intimate reception hosted in Dean Susan Westerberg Prager's office with Ms. Guerin L. Butterworth, Sterling Franklin, Dean Rolnick, and former Butterworth Prize recipient Michael Alfera '18.
Bret Golden came to Southwestern Law School in 2018 after completing his undergraduate degree in less than three years at UCLA. SCALE's rigorous 2-year program enticed him with the opportunity to take an intensive and expedited path to a career in law.  He participated in Southwestern's London Summer Program in Entertainment Law and was named a Biederman Scholar. With his J.D., he hopes to pursue a career in entertainment to lessen the burden of legal hurdles on creative individuals. 
His interests include sports since he was nine-days-old at his first UCLA football game, video games which he has always enjoyed with friends, and making ridiculous eye-roll-inducing law jokes while studying.
"Following in the footsteps of Guerin Butterworth as first in my SCALE class is a reward in itself. Her creative and successful legal mind is nothing but inspiring, and Sterling Franklin's graciousness and humor were certainly refreshing to experience. Receiving a big check is nice, but more than anything, this award has given me a chance to reflect on the opportunities SCALE has provided me. I owe this award to my classmates and friends at Southwestern that put up with my silly study tactics and picked me up when I needed it."

- Bret Golden, Butterworth Prize Recipient
---
About the Guerin L. Butterworth Endowed Prize Fund:
In 2017, Southwestern announced the establishment of the Guerin L. Butterworth Endowed Prize Fund for the first-year law student in its Two-Year Accelerated J.D. Program (SCALE) with the highest grade point average.  The Fund was established by Mr. Sterling Franklin, a trustee of the Morris S. Smith Foundation and longtime friend of Ms. Guerin L. Butterworth. After finding out that Ms. Butterworth had been first in her class in her first year in the SCALE Two-Year J.D. Program at Southwestern, Mr. Franklin decided to establish the Fund with a $15,000 gift, in her honor.
Learn more about the Guerin L. Butterworth Endowed Prize Fund here.  
Latest from the SW LAW BLOG