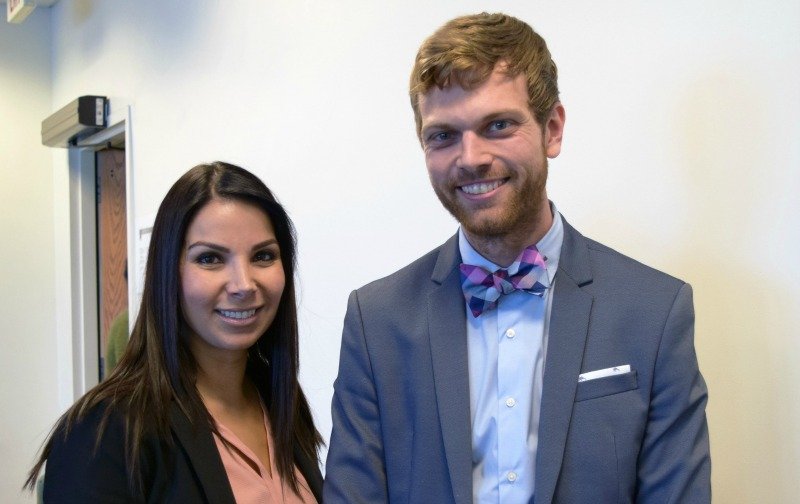 October 23, 2017
Recent Gift Establishes Annual Prize for Student with Highest First-Year GPA in Southwestern's 2-Year Accelerated Program (SCALE)
<<Press Release from Southwestern Law School >>
FOR IMMEDIATE RELEASE
CONTACT: Debra Leathers
T: 213.738.6817
E: dleathers@swlaw.edu
Morris S. Smith Foundation Creates Fund Honoring Guerin L. Butterworth '86
Southwestern Law School announced the establishment of the Guerin L. Butterworth Prize Fund for the First-Year Law Student in its Two-Year Accelerated J.D. Program (SCALE) with the highest grade point average. Sterling Franklin, a trustee of Morris S. Smith Foundation and longtime friend of Guerin Butterworth, established the Fund with a $15,000 gift. The fund generates an annual cash prize rewarding the hard work and dedication of SCALE's top first-year student. Prize recipients are Maralle Messrelian for 2016, and Michael Alfera for 2017.
Dean Susan Westerberg Prager and the entire Southwestern community congratulate both Butterworth Prize winners and look forward to following their career and personal successes for years to come. At last week's presentation ceremony, Dean Prager addressed SCALE's first-year class, the recipients, and several professors and administrators saying
"this fund and the friendship that inspired it, support my often shared belief, that relationships forged in law school and the early years of practice are some of the most important and enduring of our lifetimes."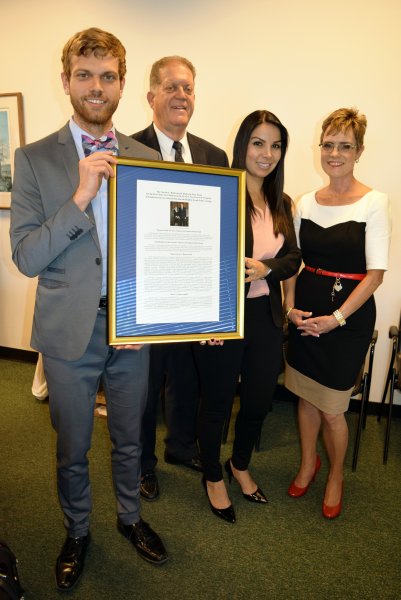 Maralle Messrelian '17 earned the Butterworth Prize for her exemplary GPA in her first year of SCALE ending in 2016. She received a B.S. in Accountancy, cum laude, from California State University Northridge. After years of practicing accounting, she decided to pursue her passion for law. She welcomed the challenge of completing her J.D. in two-years (she graduated magna cum laude). She completed Southwestern's SCALE program in May 2017 and is awaiting bar results.
"I am continually astonished by the intelligence, energy, and passion of the young law school students. I am encouraged for the future of our country and planet with such bright and energetic young people soon to be at the helm."

Prize namesake Guerin Butterworth
Michael Alfera '18, (now a second-year SCALE student) earned the Butterworth Prize for attaining the highest GPA in his first year of SCALE ending in 2017. He spent his first decade in Los Angeles as a classical pianist, composer, and conductor, before coming to Southwestern to pursue his legal studies. In 2014, Michael founded the L.A. Choral Lab, a performing arts nonprofit whose mission is to perform and to promote new choral works by living and local composers. Michael is a member of Southwestern's Moot Court Honors Program, and was also recently named a 2017-18 Biederman Scholar. With his J.D., he hopes to provide counsel and representation to musicians, arts nonprofits, and entrepreneurs.
"I am inspired by Ms. Butterworth's example and Mr. Franklin's generosity in equal degree," says Michael. "As my legal career begins, I hope to follow their lead. I hope that my career enables me to, in turn, give my own support to the Southwestern community, as Ms. Butterworth and Mr. Franklin have with this Prize."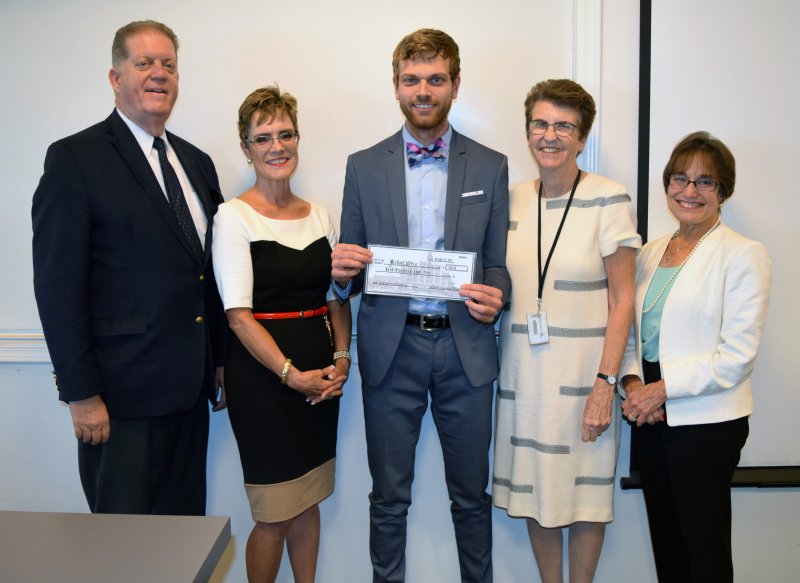 About Guerin Butterworth: Ms. Butterworth finished her first year in SCALE at the top of her class, was on Dean's List both years, and was invited to participate in the Southwestern Law Review. Now a solo family-law practitioner, Ms. Butterworth began her legal career in the Los Angeles District Attorney's Office after being selected from hundreds of applicants for a coveted spot in the certified law clerk program. She tried her first four jury trials while awaiting bar exam results. After the D.A.'s office, Ms. Butterworth worked as a civil litigator with several firms including Kirtland & Packard, Butterworth Clark & Dayton, and Butterworth & Clark. Not surprisingly, her over achievements include running (winning) marathons and other road races.
About Sterling Franklin: Sterling Franklin earned his B.A. in Political Science at Stanford in 1968; taught high school in Inglewood, CA from 1970 to 1972; earned his Master of Science in Secondary Education degree (MSEd.) in 1970 from USC; received his J.D. from Loyola Law School in 1975; and, earned his Master's of Public Administration degree from USC in 1976. He was a personal friend of Morris S. Smith (1910-1993). Mr. Franklin has been a Trustee of the Morris S. Smith Foundation since the Foundation was established by Morris S. Smith in 1993. Mr. Smith graduated from Southwestern (then Southwestern University) in 1933 with an LL.B.
About SCALE™: The SCALE ("Southwestern's Conceptual Approach to Legal Education") Program is a two-year, year-round immersion program leading to a J.D. (Juris Doctor) degree. It features an accelerated curriculum focusing on integrating substantive legal knowledge and professional skills instruction. This innovative program was started by Southwestern in 1975 and is the oldest and most successful two-year accelerated J.D. program in the nation.