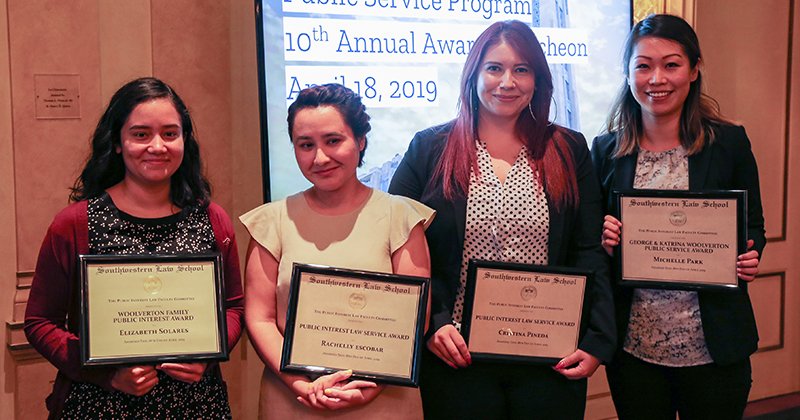 May 9, 2019
Public Service Program Celebrates 10th Anniversary at Annual Awards Luncheon
At the Public Service Program Annual Awards Luncheon on Thursday, April 18th, 2019, we celebrated and honored our students who collectively have volunteered thousands of hours over the past year to provide free legal services to those in need. This year's Award Luncheon was especially significant as it marked the tenth year of the founding of the Public Service Program (PSP). 
PSP was designed to encourage students to perform at least 25 hours of pro bono public service each academic year. It is a hallmark of our school's commitment to public interest and reflects Southwestern's rich legacy of service. At the Awards Luncheon, students who completed the 25 hours of pro bono public service in this academic year were presented with a formal letter of recognition from the Dean. Students who went above and beyond to perform at least 75 hours of pro bono public service total during their law school career received a "Public Service Distinction" notation on their transcript and will be recognized at commencement. 
Additionally, special recognition was given to a few outstanding students for their dedication to public interest and pro bono legal work.
Here are this year's honorees:
The George and Katrina Woolverton Public Service Award
2019 Recipient: Michelle Park
Given annually to one graduating student in recognition of demonstrated extraordinary dedication to public interest law activities while at Southwestern. The Woolverton Award is in the amount of $10,000.
During her three years at Southwestern, Michelle has volunteered more than 500 hours of pro bono legal work and public service with the Los Angeles County's Teen Court Program, Bet Tzedek Legal Services Advanced Healthcare Directives Clinic, Legal Aid Foundation of Los Angeles' monthly expungement clinics, OneJustice's travelling clinics, A New Way of Life's Traffic Amnesty Clinic, and the Flintridge Center. 
 Among her many accomplishments, Michelle successfully petitioned and advocated for Southwestern's Board of Trustees to establish a standing travel sponsorship to send three students to the annual Equal Justice Works Conference and Career Fair. She also served on the Public Interest Law Committee (PILC) Board, helping to raise over $20,000 annually for Southwestern's Public Interest Law Fund.
The Woolverton Family Public Interest Award
2019 Recipient: Elizabeth Solares
Given annually to one graduating student in recognition of demonstrated exceptional dedication to public interest law activities while at Southwestern. The Woolverton Family Public Interest Award is in the amount of $5,000.
Elizabeth Solares is devoted to advocating for children and youth across Los Angeles County. During her time at Southwestern, she has clerked in Southwestern's Children's Rights Clinic and Advanced Children's Rights Clinic, representing minor clients in due process violations related to their educational needs and protections. In addition to her legal studies and clinical work, Elizabeth has maintained part-time employment at the Children's Law Center of Los Angeles, advocating for foster youth in dependency court proceedings. She also clerked over her first and second-year summers for the Children's Rights Project at Public Counsel. 
The Southwestern Public Interest Law Service Award
Given annually to a graduating student(s) other than the Woolverton recipients in recognition of demonstrated significant dedication to public interest law activities while at Southwestern.
2019 Recipients: Rachelly Escobar and Cristina Pineda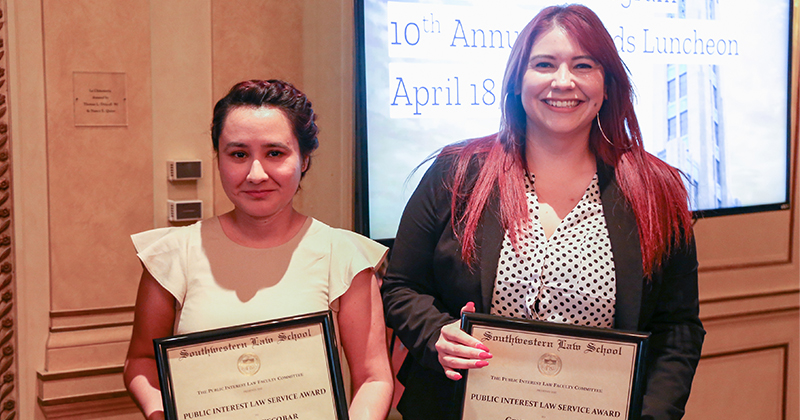 Rachelly has continually demonstrated leadership and commitment to service through her various roles as Chief Justice of West Los Angeles College's Associated Student Organization, as a JusticeCorps Fellow prior to law school, and as a law clerk in Southwestern's legal clinics, as well as other public interest and legal aid agencies.
Cristina Pineda is the Chair of Southwestern's Student Chapter of the National Lawyers Guild and a board member for the Homelessness Prevention Law Project. She has volunteered with the Los Angeles Human Relations Commission on Police Abuse and Misconduct and the Legal Aid Foundation of Los Angeles' expungement clinics. She served as a law clerk for the National Day Laborer Organizing Network,  Southwestern's Youth Offender Parole Hearing Clinic, the Los Angeles County Public Defender's Office, and the American Civil Liberties Union of New York. She has also served as a Teaching Assistant for the Community Lawyering Clinic and as a legal observer for small actions and big rallies. 
Public Interest Law Committee Student Organization Volunteer Achievement Award
2019 Recipient: Tax Law Society - Volunteer Income Tax Assistance Clinic 
This is the sixth year Southwestern's student Public Interest Law Committee (PILC) recognized a student organization who, as a whole, has demonstrated the most significant contribution to public service activities and engagement both on- and off-campus during the 2018-19 academic year.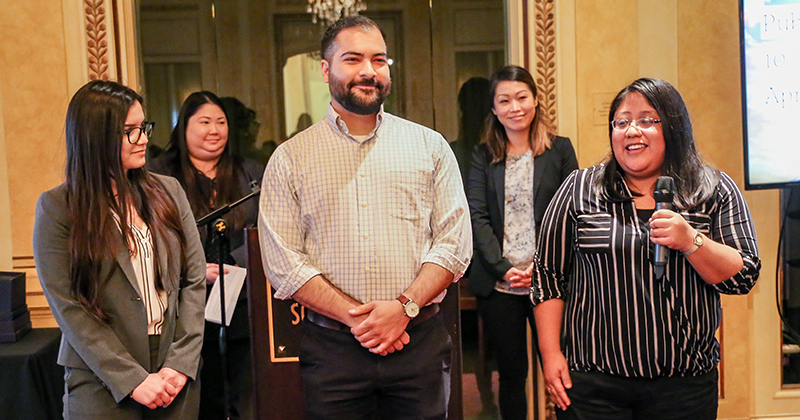 Southwestern's Tax Law Society (TLS) partners with the U.S. Internal Revenue Service Volunteer Income Tax Assistance (VITA) program to provide free federal and state income tax preparation services to low-to-moderate income individuals, families, elderly and disabled, and non-English speakers. This season the VITA Clinic prepared over 200 federal and state tax returns. 
Special Recognition - Commissioner Laura Dym Cohen
To honor the Public Service Program's 10th anniversary, a special award was presented to Commissioner Laura Dym Cohen in recognition for her dedication to public service. The Public Service Program honored Commissioner Laura Dym Cohen for her integral leadership role in establishing and fostering the Public Service Program and inspiring service in public interest law. 
Congratulations to all of our award recipients and special thanks to the Hon. Mark Juhas for helping us present this award to Commissioner Cohen and to  Mr. Brent Robinson, Director of the LA District Office for Senator Kamala Harris, for joining us at the luncheon.