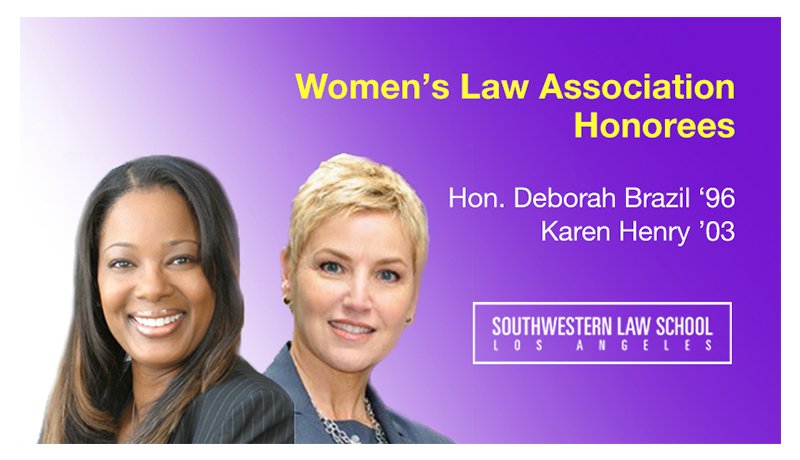 April 12, 2019
5th Annual Women's Law Association Spring Tea Honors Alumni Brazil '96 and Henry '03
This year's Women's Law Association Annual Spring Tea and Luncheon will be presenting the Hon. Deborah Brazil '96 with the Lifetime Achievement Award and Professor Karen Henry '03 with the Woman of the Year Award. The luncheon will take place on Sunday, April 14th. 
WLA Co-President, Laila Hawatmeh, commented on behalf of the WLA Board, "We chose Judge Deborah Brazil as the keynote speaker and Lifetime Achievement Awardee not only because she has distinguished herself throughout her legal career, but because she has inspired us since she spoke at our incoming orientation. Her career has taken her from being a Deputy District Attorney for the County of Los Angeles to being appointed by former Governor Jerry Brown to sit on the bench of the Los Angeles Superior Court. Honoring her was an easy decision!"
The Honorable Deborah Brazil '96 is a judge of the Los Angeles Superior Court. She was appointed by CA Governor Jerry Brown on December 5, 2013. Prior to her appointment, she served as a Deputy District Attorney in the Los Angeles District Attorney's Office from 1996 to 2013, where she served in Major Crimes, Hardcore Gang, Family Violence, Central Trials, Juvenile Assignment, and Misdemeanor Trials.
In 2012, she was named California Lawyer Attorney of the Year in Criminal Law by the California Lawyer and honored as Prosecutor of the Year by the Los Angeles County Bar Association. As a member of the bench, Judge Brazil has served on several court-related committees both locally and statewide, including the Bail Committee and statewide Judicial Education Services Committee. Judge Brazil is also an Adjunct Professor at Southwestern Law School and currently serves as President of Southwestern's Alumni Association.
Professor Karen Henry '03 will receive the Woman of the Year Award.  
"Professor Karen Henry is an inspirational woman in the legal field," said WLA Co-President Natalie Reynoso. "Not only is she an accomplished litigator, but she is also an adjunct professor and a newly appointed member to the Board of Trustees for Southwestern. From her being named to the ranks of the Top 100 Black Lawyers to her extraordinary community service and pro-bono work, she is leading the way!" 
About Professor Karen Henry '03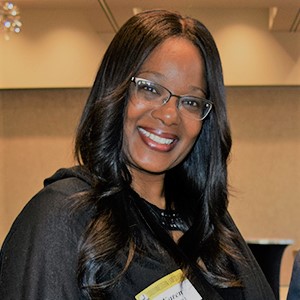 Professor Karen Henry '03 is Counsel in the Los Angeles office of Davis Wright Tremaine LLP. She is an experienced litigator with a diverse practice focusing primarily on First Amendment and employment litigation. In her employment practice, she defends corporate employers across industries against a wide variety of claims brought by current or former employees. In her First Amendment practice, Professor Henry defends the First Amendment freedoms of creators and distributors of a wide variety of entertainment content.
In 2013, she was named a Southern California Rising Star in First Amendment/Media/Advertising by Super Lawyers. In 2015, she received the Los Angeles County Bar Association's Benjamin Aranda III Outstanding Public Service Award and was named one of the "Top 100 Black Lawyers" by The National Black Lawyers. Professor Henry currently teaches "Communication Tools for the New Lawyer," at Southwestern and is a member of the Board of Trustees. 
Professor Henry had this to say about being recognized as this year's Woman of the Year: 
"When I was a student at Southwestern, I never dreamed that I would enjoy such a fulfilling practice; nor could I imagine being in a position to serve as an adjunct professor, member of Southwestern's Alumni Board, member of Southwestern's Board of Trustees, or the recipient of this illustrious honor. "
I am truly humbled to be recognized as this year's Woman of the Year, and I look forward to continuing to serve as an example to Southwestern's students that, if you stay the course and remain faithful and diligent, there is no limit to what you can accomplish. 

- Professor Karen Henry '03
"I also would like to thank Judge Deborah Brazil, who encouraged me to teach at Southwestern and illustrates the philanthropy and grace to which we all should aspire.  She is more than deserving of the Lifetime Achievement Award and I offer my heartfelt congratulations to her on this recognition."
Congratulations to both Judge Brazil and Professor Henry on their well-deserved recognition and awards! 
See both honorees at the WLA's 5th Annual Spring Tea and Luncheon on April 14th! 
Latest from the SW LAW BLOG