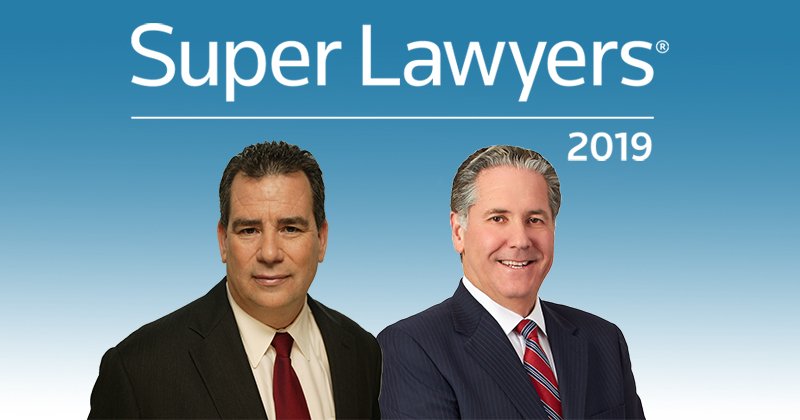 February 23, 2019
Exemplary Southwestern Alumni Stand Out in 2019 Top 10 Super Lawyers in Southern California List
Southwestern alumni Robert Brandt '76 and Brian Panish '84 have done it again!
Both alumni were selected to the 2019 Top 10 Super Lawyers in Southern California list! Mr. Brandt and Mr. Panish are seasoned veterans on the list, having been honored with the distinction of being named a Super Lawyer since 2005 and 2004 respectively. 
Super Lawyers, a Thomson Reuters business, is a rating service of outstanding lawyers from more than 70 practice areas who have attained a high degree of peer recognition and professional achievement. Each year, no more than five percent of lawyers in the state are selected to receive this honor. Super Lawyers recognizes the top lawyers in Southern California via a patented multiphase selection process that includes a statewide survey of lawyers, an independent research evaluation of candidates and peer reviews by practice area. The Southern California lawyers who receive the highest point totals during this selection process are further recognized in Southern California Super Lawyers Top Lists.
Robert C. Brandt is a partner at Feinberg Mindel Brandt & Klein LLP. He is a Certified Family Law Specialist and heads FMBK's Family Law Department. His practice is exclusively focused on family law, and he boasts nearly 40 years of experience as a family law attorney, handling a wide range of matters from marital dissolutions to child custody and visitation, to paternity and domestic violence. 
Mr. Brandt is a Fellow of the American Academy of Matrimonial Lawyers, where he serves as Past President of the Southern California Chapter and has received the 2018 Professionalism Award. Mr. Brandt is also a Fellow of the International Academy of Family Lawyers, the Association of Certified Family Law Specialists and previously served as Chair of the Los Angeles County Bar Association (LACBA) Family Law Section.
 
"It has been a sincere honor to be named a Top 10 Super Lawyer for the 8th consecutive year. Super Lawyers' Top 10 list includes all areas of law, including my specialty of family law. I learned so much from my time at Southwestern and to this day have good friends and colleagues that I work with who are Southwestern alums."

- Robert Brandt '76
Brian Panish is a partner at Panish Shea & Boyle LLP and is one of the country's leading trial attorneys. Mr. Panish has obtained more jury verdicts in excess of $10 million in personal injury and wrongful death cases than any other lawyer in California. His courtroom victories include a $4.9 billion record verdict in the landmark products liability case Anderson v. General Motors, over 100 verdicts and settlements in excess of $10 million, six verdicts in excess of $50 million, and more than 250 verdicts and settlements over one million dollars in personal injury, car accident, wrongful death, and business litigation cases.
Mr. Panish has also been appointed to serve as a leading plaintiffs' counsel in numerous mass torts and major disaster cases, including train crashes, airplane disasters, pharmaceuticals, and defective product cases.  He has been repeatedly named as a top lawyer in California and nationally by the National Law Journal, Daily Journal, and Recorder.
In 2017, Mr. Panish donated a generous endowment gift to Southwestern to establish the Panish Civil Justice Program.
 

"Southwestern helped me build my foundation in the law. I am so grateful for my experience in the trial program and all the ways they helped me in my career."

- Brian Panish '84

 
See both alums in the 2019 Top 10 Super Lawyers in Southern California list here. 
A hearty congratulations to both Mr. Robert Brandt and Mr. Brian Panish on making the Super Lawyers list and to their continued success and achievements!
Latest from the SW LAW BLOG