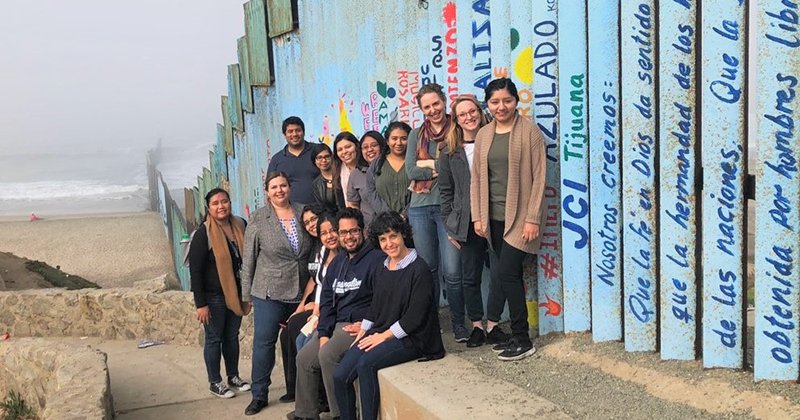 November 1, 2018
Southwestern Students Assist Asylum Seekers in Border Town Pro Bono Program
(Tijuana, Mexico) 
On October 26 and on 27, 2018, Southwestern Law School's Pro Bono Removal Defense Program and  Public Service Programs invited students to an overnight volunteer program in Tijuana, Mexico, to assist asylum-seekers with the process to apply for U.S. asylum.
Nine Southwestern students answered the call and volunteered their time for the Justice trip. These students were:
Mirian Chavez
Yamili Gonzalez
Christian Roldan
Samuel Martinez
Carla Rosas-Hernandez
Katherine Vazquez
Diane "Debbie" Flores
Sandra Lopez
These nine students, guided by Professor Vázquez, Kathy Khommarath, and Sabrina Frydman '18 (along with a Loyola student, faculty, and staff) worked with Al Otro Lado to conduct 56 intakes and consultations.
Together, they screened individuals and assisted them in preparing for their credible fear interviews when presenting themselves at the border. 
Dean Julie Waterstone, Associate Dean for Experiential Learning and Director of the Children's Rights Clinic, says, "We are so proud of our students and their incredible work this past weekend! Thank you to Julia Vázquez, Kathy Khommarath, and Sabrina Frydman for making this happen! Thank you to the Southwestern Public Service Program, Southwestern Pro Bono Removal Defense Program, and the Loyola and Southwestern Law Schools' Removal Defense Corps for supporting this program!"
Southwestern students Samuel Martinez (L) and Christian Roldan (R) in action. 

"I'm humbled to have been able to use my legal skills to inform, motivate, and empower those in need." 

- Christian Roldan, 4L Evening 
A huge thank you to all those involved in making this pro bono opportunity available and to our students for their hard work and dedication! They exemplify Southwestern's commitment to community and public service.