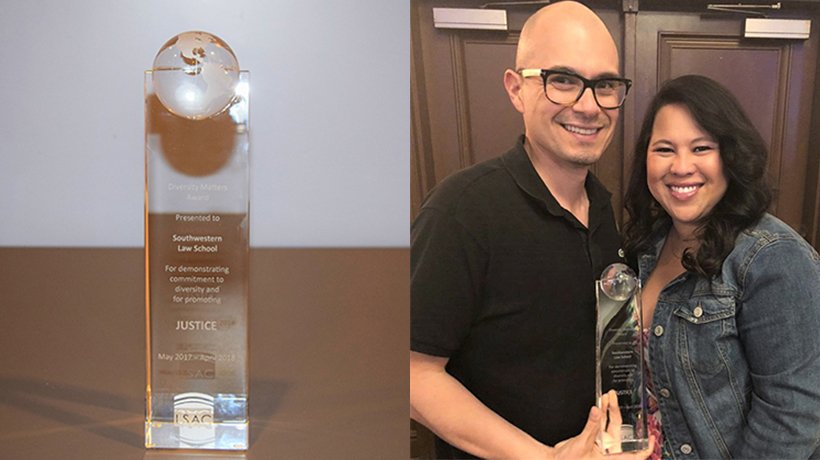 July 3, 2018
Southwestern Wins 2018 LSAC Diversity Matters Justice Award!
Southwestern was recognized by the Law School Admission Council's Diversity Committee for the 2nd year in a row. This year, we were honored with the 2018 LSAC Diversity Matters Justice Award.
Per LSAC, this distinction is awarded to the law school that offers a program connecting participants to criminal justice issues, or makes a positive impact on the local community, or focuses on a social justice issue. With our commitment to increasing diversity and accessibility to quality legal education, Southwestern hosted over 15 pipeline events, reaching a total of 550 students, just this year.  
Our pipeline events included the Teen Court Outreach Programs, where we invited students from local high schools to participate in student-led law-related activities, and our ELAC Pathways Law Day, where students from the East Los Angeles College Pathways Program visited for a mock law class and Q&A session with faculty. 
To see a list of the many Diversity Matters events we held this year, go here or visit Discoverylaw.org.
(Featured image is (L) the gorgeous award and  (R) Admissions' Dean, Lisa Gear and Mike Chavez (Associate Admissions' Director)
"It is our honor to be the recipient of this year's LSAC Diversity Matters Justice Award.  Southwestern's tradition of expanding access to the legal profession is a fundamental aspect of our identity.  Therefore, we are very proud of the work our staff, students, and faculty does every year to share the transformative power of legal education with diverse communities across the country.  The pipeline programs we offer strive to teach youth that they possess the capacity to break down and understand laws, advocate for themselves, and fight against injustice wherever it exists.  Engendering this belief, we know, will inspire the next generation of legal professionals who will positively impact the world around them."   

- Mike Chavez, Associate Director of Admissions