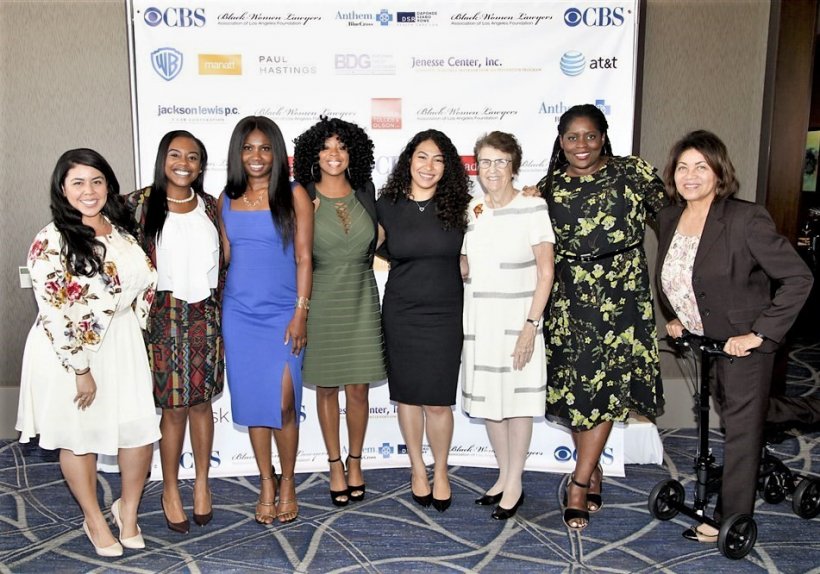 July 11, 2018
Black Women Lawyers Association of Los Angeles Foundation 43rd Annual Scholarship Fundraiser & Awards Luncheon
Congratulations to Southwestern alums Ebony Randolph '18, Ashley Williams '17, and Jasmine Ortega '18 on receiving scholarships from the Black Women Lawyers Association of Los Angeles Foundation! They were honored at the BWLF's 43rd Annual Scholarship Fundraiser & Luncheon at the Marina Beach Marriott. 
Dean Susan Westerberg Prager and Dean of Students and Diversity Affairs, Nydia Dueñez '10, also attended the awards luncheon to commemorate the happy occasion. 
"The Black Women Lawyers Foundation is an incredible organization that recognizes outstanding women through its scholarships. Southwestern Law School was honored to have our graduates, Ebony Randolph, Ashley Williams, and Jasmine Ortega recognized. All three women are remarkable members of the Southwestern community. The event was filled with student success stories, recognition of social justice warriors and inspiration for continued advocacy work."

- Dean Nydia Dueñez
 Ashley Williams '17 was a returning attendee. Last year, she received the Honorable Justice Vaino Hassan Spencer Scholarship at the 42nd Annual BWLF Awards Luncheon. She says, "I am grateful to have received the California Bar Foundation ChangeLawyers' scholarship and have the Black Women Lawyers Foundation match my scholarship. I am so thankful to have the Black Women Lawyers Foundation continuously support my academic journey and provide a family of mentors."
Dean Dueñez with Ashley Williams '17

 

"I am also thankful to Dean Prager for coming to the event and recognizing and supporting my achievements, and I am immensely grateful to Dean Dueñez who has always made sure I completed my classes and bar prep on my own terms." 

- Ashley Williams '17