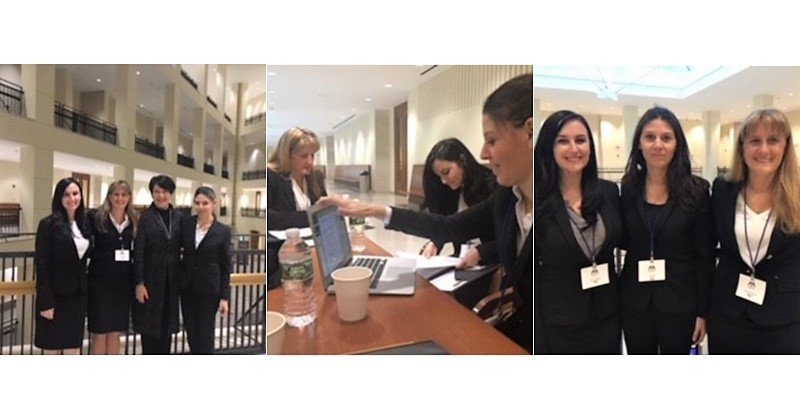 March 10, 2018
Southwestern's Moot Court Team is On A Roll!
Competition season is in full swing for Southwestern's Moot Court Team! Moot-ers are balancing classes, life, and bringing their A-game and Bison spirit to national moot court competitions.
On Feb 9th – 10th, Jamison Gilmore, Kaycee Holcomb, and Karlie Schafer, coached by Professor Michael Epstein, competed in the National Teleconference and Communications Moot Court Competition in Washington D.C. This year's problem considered whether it was illegal for a city government, during a disabling hurricane, to use a transmitter that interfered with a news station's ability to communicate with its news-gathering drone.  Kaycee Holcomb scoring second overall as an oralist earned the highest cumulative score among competitors who argued both on and off-brief!
On March 1st – 3rd, Madelynn Hefner, Harmony Gilmore, and Charlie Sparkle, coached by Professor Alexandra D'Italia, competed in the Bryant-Moore Invitational at Howard University School of Law in Washington, D.C. This year's civil rights problem explored whether Title IX and Equal Protection Rights are violated when a School Board denies a transgender student access to the girls' bathroom and if compelling artistic expression violates the Free Speech or Free Exercise clauses of the First Amendment.
Also on March 1st – 3rd, Kara O'Brien, Tina Robinson, and Rita DiLorenzo competed in the American Bar Association's National Appellate Advocacy Competition in Boston, MA, placing as Semi-Finalists (top four) out of 37 teams. The team competed against South Texas College of Law, Boston University, University of South Carolina, Wayne State University, and Mercer Law School. With the help of Coach, Professor Catherine Carpenter, Southwestern's team advanced to the Semi-Finals on the strength of oral arguments and an exemplary brief score. 
Congratulations to all our Moot-ers on a job well done!  Spring Break celebrations are in order!
Latest from the SW LAW BLOG