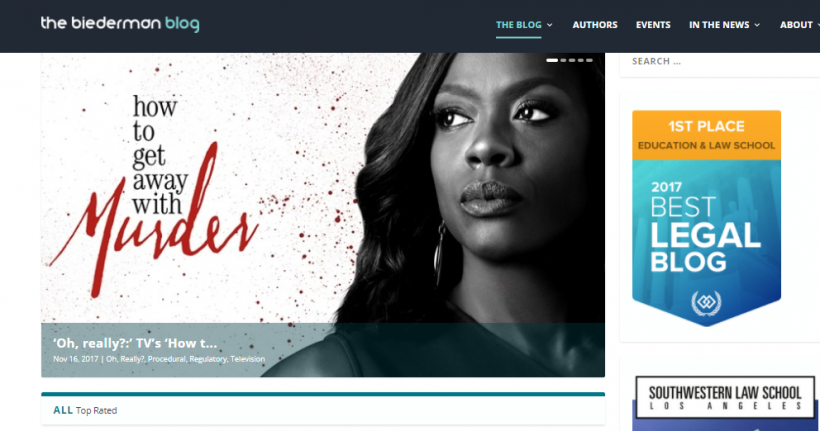 December 4, 2017
The Biederman Blog Named Best Legal Education & Law School Blog by The Expert Institute
Like many Hollywood staples, The Biederman Blog participated in a little "nip tuck" procedure just in time for (blog) awards season.
Almost immediately after that, it competed with hundreds of legal blogs in The Expert Institute's third annual contest taking third place overall and winning Best Education and Law School Blog.
The Biederman Blog also appears in the ABA Journal's Top 100 Legal Website honor roll, and Feedspot's Top 50 Copyright and Top 200 Legal Blog lists.
What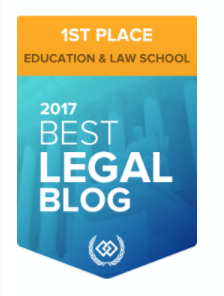 many may not realize is that The Biederman Blog is essentially a class-project. Each semester, veteran professors Michael Scott and Craig Matsuda, under the auspices of Southwestern's Donald E. Biederman Entertainment and Media Law Institute, teach a two-unit Entertainment Law Blog course. Often with only a handful of students, the professors train, coach, and elicit high-quality, relevant, and entertaining posts.
Armed with a refreshed look and superb content, the blog's crew enlisted the school's marketing team to launch a grassroots meets guerrilla marketing campaign. Not only did they blast social media with hilarious video content the last few days of the contest, some team members (you know who you are) also approached neighbors, shoppers, pedestrians, students, professors, and even the school's COO with hard-to-resist appeals to grab their phones and VOTE NOW for The Biederman Blog. "The last ten minutes were insane" explained the public affairs team, "we won by only four votes, and it was neck and neck until the last second. Very exciting and a great team building exercise."
Upon learning of The Expert Institute contest results, Professor Matsuda immediately acknowledged the hard work and dedication of this semester's main contributor, Victoria Carthorn '18. "Victoria and the other student contributors make this project whirl and go. We cannot thank them enough. Any accolades belong to them."
CONGRATS to The Biederman Blog team! Well deserved!!
Are you a student, alumni, or practitioner interested in contributing to the blog? Contact Professor Matsuda at CMatsuda@SWLaw.edu 
Latest from the SW LAW BLOG