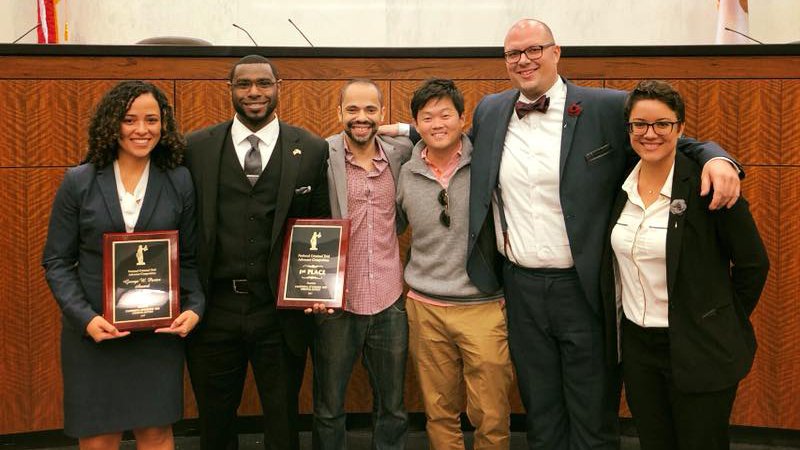 October 27, 2017
Southwestern's Trial Advocacy Team takes First-Place in National Competition - Rochelle Higgins '18 Named Best Advocate
October 22nd, 2017 – Southwestern's Trial Advocacy Team won the California Attorneys for Criminal Justice National Invitational Trial Advocacy Competition. Out of the 24 teams competing across the nation, Southwestern's TAHP team emerged as the #1 seed after Prosecution counsel advocates, Elizabeth Cirelli and Roger Wilkerson, III, set the tone in the initial rounds. Southwestern maintained that dominating position on their path to a first-place finish, beating teams from Pepperdine, Laverne Law School, UC Berkeley, and two from USD Law School, along the way.
Rochelle Higgins earned the "George W. Porter Award" for Best Advocate as she and her Defense counsel partner, DJ Tijerina, swept all three judges in the championship round.
"Competing at the California Attorneys For Criminal Justice (CACJ) National Criminal Trial Advocacy Competition was a truly incredible experience," says Higgins.
"As a second-time competitor in this competition, I wanted nothing more than to win this time around, and that's exactly what our team did."
The team was expertly coached by a cadre of devoted Southwestern TAHP alum headed by Doug Baek as the head coach, with assistant coaches Michael Morse, Anet Badali and Mackenzie Brown. Tijerina lauded the guidance and tutelage of team coaches. "The Credit goes to our coaches (all Southwestern and TAHP alumni, and all successful District Attorneys) and Professors, Esposito and Seki, for pushing us to work that much harder, to complete one more rewrite, to attend one more practice, all to ensure that we would be the most prepared team."
The hard-won preparation paid dividends, instilling in the advocates an unshakable assertiveness and feeling of command, even when faced with unpredictable turns in the competition. "In our final round against the University of San Diego Law School, there were a couple of curve balls thrown at us where we had to make on-the-fly adjustments," described Higgins. "That, however, didn't phase us."
"We stayed confident, and we owned that courtroom. We turned that final round into the Southwestern Law School Show."
The case involved a 26-year-old Ali Said, who was accused of shooting Jesus Salas on May 29, 2017, in the City of Sunshine on the corner of Erin and Lockin Streets. The advocates successfully proved his innocence.
Please join us in congratulating the advocates and coaches on a job well done!
Latest from the SW LAW BLOG