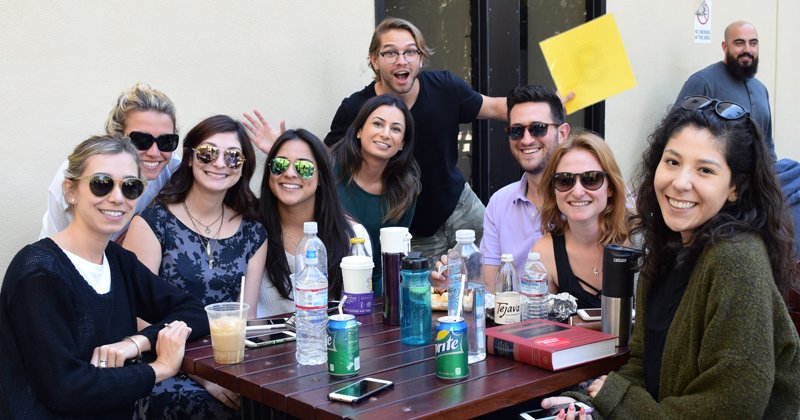 October 25, 2017
Join us on November 11th for Southwestern Law Day!
Will you be in Los Angeles (or thereabouts) on November 11th? If so, we invite you to join us and attend Southwestern Law Day!
During SWLD, faculty and students will be presenting tons of invaluable information on law school, and exploring why learning, mentorship, support, and involvement are fundamental to the law school experience. Knowing how to approach law school right from the start is an important facet of success that many entering students miss, and Southwestern wants to arm you with the knowledge and insight that will help you excel in the classroom and shape a successful legal career.

RSVP using the following link: http://bit.ly/SWLawDay
Or by contacting the Admissions Office: (213)738-6834
EVENT SCHEDULE:

1:30pm - Check In

2:00pm - Welcome by Dean Susan Westerberg Prager

2:15pm - Lawyers and Tough Decisions: The Death Penalty by Assistant District Attorney Joseph Esposito '89:
No criminal justice issue has been more polarizing than the death penalty. How do prosecutors decide whether seeking the ultimate punishment is warranted in ...a particular case? What factors are considered, who considers them and who makes the final decision? Assistant District Attorney Joseph Esposito '89, Chairman of the Los Angeles County District Attorney's Capital Case Committee, shares insight into the evaluation process of seeking the ultimate punishment under California law. Professor Esposito, Professor of Law and Co-Director of Southwestern's Trial Advocacy Honors Program, has led a distinguished career as a prosecutor in the Los Angeles County District Attorney's Office since 1989. Currently Assistant District Attorney in charge of Special Operations, he previously served in several divisions, including as Director of the Bureau of Specialized Prosecutions, Head Deputy in the Major Narcotics Division, Assistant Head Deputy of the Hardcore Gang Division, Special Assistant in the Bureau of Central Operations, and Felony Trial Deputy in the Hate Crimes Suppression Unit and Central Trials. Professor Esposito has been recognized for his outstanding skills in the courtroom by such entities as the Association of Deputy District Attorneys, and Justice for Homicide Victims who named him Prosecutor of the Decade in 1999.

3:30pm - SCALE 2-Year J.D. Overview by Associate Dean for SCALE, Harriet M. Rolink '79

3:45pm - The Art of Negotiation by Professor Cristina Knolton:
You have been negotiating your entire life, but have you been maximizing the results? Negotiating is an art. This session will provide you with the opportunity to practice negotiating a deal alongside Southwestern's Director of the Negotiation Honors Program, Professor Cristina Knolton. You will leave the session with 5 impactful tips to help you successfully negotiate any deal. You will also have an opportunity to participate in a live simulated negotiation. Do you often find that you are the one resolving disputes among your siblings and/or friends? Your role as a peacemaker is likely to continue as you begin your career as a lawyer. Lawyers are regularly called upon to resolve disputes among parties. In fact, many cases are required to go to mediation before ever reaching a courtroom. Mediating disputes effectively is an art. During this session, Professor Cristina Knolton, Director of the Negotiation Honors Program, will provide you with specific tips that will help you mediate any dispute. You will also have an opportunity to participate in a live simulated mediation.

5:00 p.m. - Choose Your Break Session:

[A] Blueprint Logic Games Workshop
Blueprint's LSAT expert instructor, Ross Rinehartl, will introduce techniques for tackling the most intimidating section of the test - the Logic Games section. Students will have a chance to work on real Logic Games questions on their own, after learning some of those techniques, and then Ross will review, showing students just how manageable the games are.

OR

[B] Behind Every Practice-Ready Attorney is a Comprehensive Experiential Learning Program with Professor Anahid Gharakhanian
Learning and professional development at Southwestern go beyond the classroom. We emphasize foundational learning in the classroom, but we also realize that learning occurs through doing! Professor Anahid Gharakhanian, Director of Southwestern's Externship Program, will moderate a panel of alumni and students who will share their perspectives on how externships have advanced their legal careers. Come ready to ask a lot of questions!

6:00pm - Reception & Campus Tours
Mingle with Southwestern faculty members, alumni, and students over heavy hors-d'oeuvres. Optional campus tours will begin at 6:45 p.m.

*Southwestern is providing all attendees with complimentary parking, application fee waivers, and a raffle for a book scholarship.

*Blueprint LSAT Prep will provide all attendees with a $400 discount applicable to their live classroom courses. They will also raffle off two 2-hour tutoring gift certificates, each for a 2-hour tutoring session.  
Note: Raffle tickets are collected at the reception and participants must be present at the raffle to win.