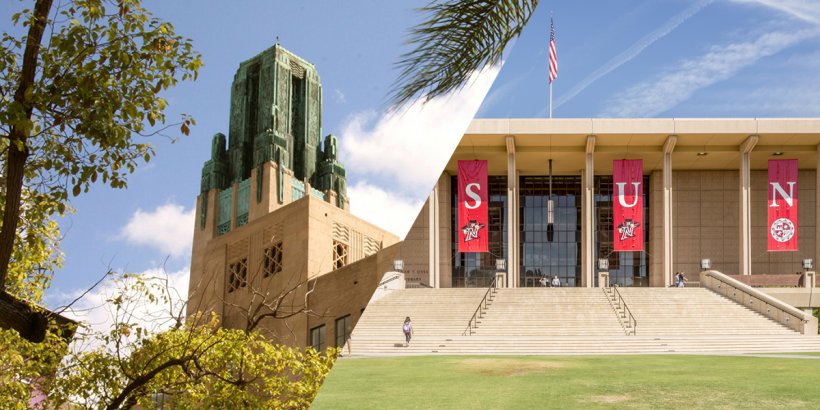 August 29, 2017
Ribbon Cutting Marks Opening of CSUN Student Legal Support Clinic (SLSC)
On August 30th, 2017, officials from Southwestern Law School and California State University, Northridge will "cut the ribbon" on a one-year pilot project to provide CSUN students — citizens and noncitizens — with pro bono assistance on legal issues.
The project is the result of a survey conducted by CSUN student government, Associated Students (AS), that indicated student interest in having access to free legal assistance to address a host of concerns, including those surrounding immigration. Leveraging an academic partnership that already exists between CSUN and Southwestern Law School, AS spearheaded an effort that led to the creation of the first CSUN Student Legal Support Clinic.  
Under the supervision of attorney and Southwestern Law School faculty member Julia Vazquez, Southwestern law students will assist CSUN students with a variety of immigration-based legal services, including adjustment of status, special immigrant juvenile status, and naturalization needs, among others. While the clinic's focus is on immigration, its student volunteers will refer clients to free or low-cost attorneys or agencies for other legal matters.
"The lack of access to legal services spurred an onslaught of predatory 'businesses' that take advantage of immigrants," said Vazquez, a recipient of the 2016-2017 Matadors United Award. "People need to know their actual rights and legal options. This clinic will empower immigrants with knowledge and hope."
William Watkins, CSUN's vice president for student affairs, called today's ribbon cutting "a proud moment for CSUN and an important building block in our relationship with Southwestern."
"Most important is the positive impact this clinic will have on students who are often vulnerable because of a lack of access to adequate legal resources," Watkins said.
The clinic is jointly funded by Southwestern Law School and CSUN's Associated Students (AS). The space for the clinic on the third floor of Oviatt library is the university's only in-kind contribution to the pilot project. If the pilot is successful, additional funding will be renegotiated between Southwestern Law School and AS, if continuation of the initiative is recommended.
The clinic is offered as a public service to CSUN students, but does not constitute solicitation or provision of legal advice by CSUN. Any legal information or advice provided is provided solely by Southwestern Law School.