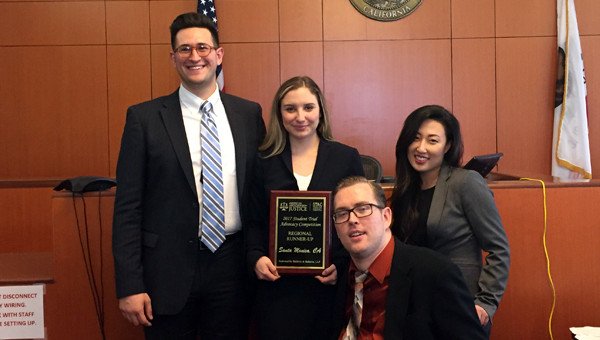 March 17, 2017
Southwestern reaches Semi-Finals in American Association for Justice National Student Trial Advocacy Competition
In March at the regional round of the American Association for Justice Trial Advocacy Competition, Southwestern students Esther Kim and Joey Mitchell for the Plaintiff team and Samuel Stone and Natalie Lowis for the Defense team performed very well, defeating teams from Cal Western, Thomas Jefferson, and Chapman to reach the semi-final round of the competition. The team of four won Regional Runner-Up.
Kim described the unique challenges of the competition and the demands of "constantly learning to adapt. For instance, a witness may provide you with an answer that you weren't expecting. That may trigger impeaching a witness or using that to your advantage and probing further." The team's adaptability was tested when "something was included or excluded from evidence. This particularly impacted myself and Samuel because we were both presenting the closing arguments, so, if something was not included in evidence, we could not talk about it in our closing arguments. This would require us to remember to abstain from talking about certain things."
The case dealt with the issue of premises liability related to augmented-reality gaming. It questioned whether store owners are liable for criminal assault when they associate with or advertise in those games.
Latest from the SW LAW BLOG