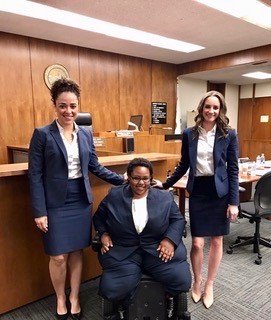 February 28, 2017
Southwestern Team Reaches semi-finals at TAHP Competition
In February at the regional round of the Texas Young Lawyers Association National Trial Competition, Southwestern's team of Rochelle Higgins, Michelle Lewis, and Tiara Simmons performed very well, defeating teams from Cal Western and the University of Hawaii to reach the semi-final round of the competition. Ultimately, the team placed 4th out of 28 teams in the region.
"TAHP is an extraordinary program— the dedication of our notable alumni is what we depend on. We (advocates) learn day in and day out from very experienced trial attorneys— both in the criminal and private sector," Lewis said. "We had practices several times a week and put in very long hours. Putting on a full trial takes so much dedication and mental toughness— from pretrial motions to closing arguments, we do it all. I think what ultimately led to our success was our delivery/style and strength of our arguments. It is so important in these competitions to really hone in on the theories of the case and to focus on the main issues. This case was written to be heavily in favor of the defense and after our first prosecution round, we got high praise from the judges indicating we put forth the best arguments and best possible case for the prosecution given the circumstances and strength of the case overall."
The team conducted four trials based on the same case that focused on a hypothetical criminal drug sale, in which the charge against the defendant was possession of a controlled substance with the intent to distribute.
Latest from the SW LAW BLOG