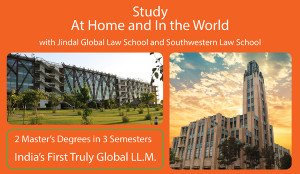 February 15, 2017
Southwestern to Offer Dual LL.M. Degree with Law School in India
Southwestern has partnered with the Jindal Global Law School in India to offer an 18-month dual LL.M. degree program. Upon completion, graduates will have two LL.M. degrees – one from Southwestern and the other from Jindal.
Professor Priya Gupta, Faculty Director of the General LL.M. Program at Southwestern Law School, said: "Southwestern is thrilled to be working with JGLS on this new endeavor in legal education. The Global LL.M. offers a tremendous opportunity for students to immerse themselves in two innovative and complementing educational institutions as well as in two internationally active professional legal communities."
The program will begin at Jindal Global Law School's campus in India, where students will earn a total of 28 units, 12 of which will count toward the Southwestern LL.M. degree. In the phase of the program at Southwestern, students will complete a minimum of 12 units (with the opportunity to complete as many as 30). International students will also have the option to stay at Southwestern for an additional semester to prepare for the U.S. bar exam.
Prarthana Rajashekar, a current student in Southwestern's LL.M. in Entertainment & Media Law program said about the potential new dual LL.M. degree, "As an individual who is familiar with both the Indian and the American legal education environment, I would say that the new dual LL.M program is an excellent opportunity for law graduates to experience the best of both worlds."
More information about this and other global law programs is available here.