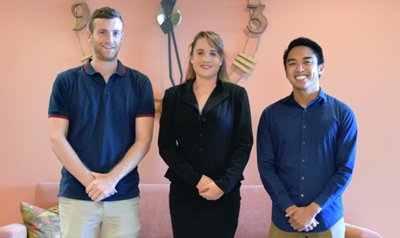 October 19, 2016
Three Students Selected as 2016-2017 Biederman Scholars
In an effort to recognize excellence in academic achievement, and encourage and facilitate career success, Southwestern's Donald E. Biederman Entertainment and Media Law Institute established the Biederman Scholars program to help expand opportunities for promising future entertainment lawyers. This year, three outstanding students have been selected for this honor: Corey Geiger, Sara Locke, and Jasen Talise.
"I am pleased to announce the new group of Biederman Scholars, all of whom have combined superlative academic performance with a demonstrated interest in entertainment and media law," Dean Susan Prager said. "In doing so, I also want to acknowledge the generous contribution of Danny Kohler, a distinguished Southwestern alumnus and former Biederman Scholar. Danny is the son of former Biederman Institute Director David Kohler, who inaugurated the Biederman Scholars program. Danny has made it possible again this year for Southwestern to offer the new Biederman Scholars a stipend in recognition of their achievement. The stipend is named in David Kohler's honor."
Corey Geiger is a second-year student in the full-time program at Southwestern Law School. This summer he worked as a research assistant to Professor Robert Lind. He is a member of Law Review and the Negotiation Honors Program. He also serves as Secretary for the Entertainment Law Society. Geiger is originally from Kentucky, but knew he wanted to come to Los Angeles to pursue a career in the entertainment industry since the age of 10. He studied business in undergraduate school at Tulane University.
"I came to Southwestern specifically because of the Biederman Institute and its reputation in the entertainment industry, so it is especially meaningful to have been recognized by the Institute," Geiger said. "The amazing faculty and alumni of Southwestern really make it a one-of-a-kind environment with so many opportunities. I plan to pursue a career working as production counsel for film and television projects, and I can only hope to one day be as successful as the many Biederman scholars that have gone before me. It is an honor to be included alongside such talented alumni and current fellow students. "
Sara Locke is a third-year PLEAS student at Southwestern. She first became interested in entertainment when she was in high school and learned that she could, in fact, combine entertainment and law. She has participated in the London Summer Abroad program, taking Entertainment Law and Drafting Entertainment Industry Contracts. Locke is a research assistant for Professor Hila Keren, and has been a TA for Contracts. She also has assisted the Biederman Institute as a work-study student. She has been a Dean's Fellow since 2015 and plans to continue with the program until she graduates. She has also been a Peer Mentor for the past two years. Locke participated in the Southwestern Negotiation Intramural Competition, taking second place with her partner. Locke loves to negotiate, and through her classes and the London Program, she has been thrilled to experience negotiations that occur in the entertainment industry. She plans on working in business affairs for a motion picture studio in the future.
"I have been striving toward Entertainment law since 2012, and to be recognized for this is so beyond words," Locke said. "I am so grateful to the Biederman Institute and everything that they do for the students here at Southwestern. I look forward to the opportunities and hope to make the Institute proud."
Jasen Talise is a third-year evening student with a focus on independent film. He is currently a member of Law Review. During his last year at U.C. Berkeley, he wrote and directed his first feature, "Bullish," which was an experience that played a major role in his decision to attend Southwestern. As a law student, he sees how great storytelling is just as important in the practice of law as it is in making films. After graduation, he plans on gaining experience in various areas of the independent media industry, from signing distribution deals on the international film festival circuit to learning how showrunners run their shows and distribute them through the Internet. When he is not working on stories or studying the law, he enjoys live music, lazy rivers, and freestyle dance.
"I am very honored to be named a Biederman Scholar because the Biederman Institute is precisely why I began my legal career at Southwestern," Talise said. "This experience is incredibly humbling, and I am thankful to the Institute for the opportunity to represent our school in this capacity."
Latest from the SW LAW BLOG