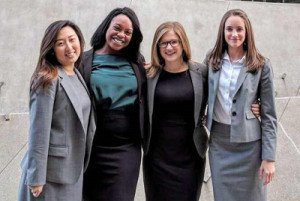 October 20, 2016
TAHP Team Earns Fourth Place at National Competition
At the California Attorneys for Criminal Justice and National Criminal Trial Advocacy Competition in San Francisco, Southwestern's team of Ebony Randolph, Tyler Zaremba, Esther Kim, and Michelle Lewis took fourth place out of 24 teams, besting representatives from UCLA, Pepperdine, Loyola, UC Berkeley, Thomas Jefferson, UC Hastings, and Cal Western.
For Randolph, persistence paid off. She said, "I learned from this experience that it's all about the size of the fight you bring to the court room. In other words, even if your arguments aren't as polished as you would like them to be, just keep fighting for your client until you convince the jury to fight for them too, because that is what it's all about in real life."
Another Southwestern team of Stacey Bavafa, Roger Wilkerson, Rochelle Higgins, and Natalie Lowis fought hard and strong during the first two rounds of the competition, finishing just short of quarterfinals. Advocate Wilkerson obtained a perfect score during his round.
Professors Bill Seki and Joseph Esposito coached the teams and Parisa Saleki and Arvin Arakelian served as team managers. The case the advocates argued involved a complex matter centering on a man charged with involuntary and vehicular manslaughter.
Latest from the SW LAW BLOG