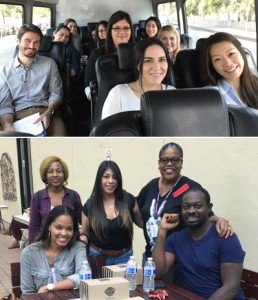 October 14, 2016
Students Give Back on Service Day at Southwestern
On October 7, Southwestern's Public Service Program participated in Diversity Week's Service Day, which gave students the chance to help people in need by volunteering for legal and non-legal projects that assist the Southern California communities. Activities and opportunities to give back were explained at a Service Day Lunch, which was held in the Student Commons.
The day included a Justice Bus Trip to San Bernardino, in which OneJustice's Justice Bus Project partnered with the Inland Empire Latino Lawyers Association to bring a free legal criminal record clearance legal clinic to Fontana. This clinic is aimed at empowering vulnerable Californians in need. During the clinic, which was held at the Inland Empire Latino Lawyers Association & Fontana Community Senior Center, student volunteers from Southwestern met with clients facing reentry issues. Seventeen underserved Californians were served during this clinic.
Other Service Day activities included Expungement Training with A New Way of Life Reentry Project. Students who attended this training will be able to participate in clinics held to assist people expunge certain criminal convictions so they can qualify for employment. Homelessness Prevention Law Project Training & Outreach is part of the Public Counsel's CARES program, which gives Southwestern students the opportunity to learn about and advocate on behalf of people accessing their state and county benefits. There was also a Supply Drive for Refugees, in which Southwestern's National Lawyers Guild (NLG) chapter teamed up with Al Otro Lado, an organization dedicated to serving indigent refugees and migrants in Tijuana, Mexico to collect much needed supplies for refugees at Casa del Migrante.