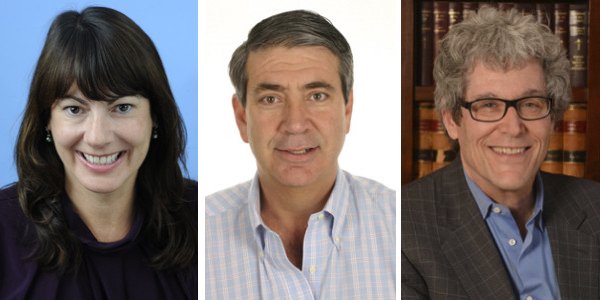 October 6, 2016
Southwestern to Honor Outstanding Members of the Entertainment Law Community
As one of the top entertainment law schools in the country, Southwestern will recognize three outstanding attorneys for their contributions to the entertainment and media industries, the legal profession and legal education at the Donald E. Biederman Entertainment & Media Law Institute Awards Reception. Susan Cleary '93 will receive the award for Outstanding Alumna in Entertainment and Media Law; Michael Blaha will be recognized as Outstanding Adjunct Professor in Entertainment and Media Law; and Donald Passman will receive the Donald E. Biederman Legacy Award.
The reception, hosted by the Biederman Institute and Southwestern's Entertainment and Intellectual Property Alumni Association (SWEIP) will be held on Friday, November 18, 2016 from 7 to 10 p.m. at the SLS Hotel in Beverly Hills. Proceeds from the event will go to the Entertainment and the Arts Legal Clinic at Southwestern, which provides legal services to independent film producers and other creative artists who would otherwise be financially unable to secure the assistance of a lawyer, and to help strengthen Southwestern's position as a leader in the field.
Susan Cleary '93 will be honored as Outstanding Alumna in Entertainment and Media Law, an award given to a Southwestern alumna for exceptional accomplishment in the entertainment and media industries and significant contributions to the legal profession, the community and Southwestern.
Susan Cleary is a highly respected entertainment attorney who has represented national and international entertainment industry organizations for well over two decades. She has served as general counsel for the Independent Film & Television Alliance (IFTA), first as Director and then as Vice President, Legal Affairs for 16 years. At IFTA, Ms. Cleary's work focuses on international licensing, distribution, new media, content protection, and market and regulatory conditions including within China and the European Union, government relations and international dispute resolution. She also oversees IFTA Arbitration, an international arbitration tribunal and IFTA Collections, a division that collects secondary rights royalties for independent rights' holders.
Prior to joining IFTA, Ms. Cleary served as associate counsel at the Motion Picture Association of America (MPAA), representing the Hollywood studios in worldwide copyright litigation. She served as production counsel for World of Wonder Productions, an independent producer of cable and reality programming, where she worked on the HBO program Video Justice. Ms. Cleary began her legal career at Saban Entertainment, Inc.
Ms. Cleary's extensive experience in new media licensing has spanned analog to digital technology, and traditional production and distribution methods to new platforms and revenue models for streaming and downloading of content. She is the co-author (with H. Frumes and L. Brennan) of "Developing an Internet and Wireless License Agreement for Motion Pictures and Television Programming," which was published in Southwestern's Journal of International Media and Entertainment Law. She served as editor of several editions of the IFTA Model International Licensing Agreements, which are used industry-wide. Over the past 20 years, she also has been actively involved in the review and preparation of Amici briefs before the U.S. Supreme Court and Courts of Appeals in seminal copyright cases.
Ms. Cleary has been a guest lecturer at both Southwestern and Pepperdine Law Schools. She has maintained close ties  to Southwestern through many avenues since her days as a student as an active participant in the Alumni Resource Network, the Southwestern Entertainment and Intellectual Property Alumni Association, and the Donald E. Biederman Entertainment and Media Law Advisory Board, and has served as a quarterfinal round judge for the school's intramural Moot Court competitions.
From 2011 to 2015, Ms. Cleary was named a finalist for the Los Angeles Business Journal's Corporate Counsel of the Year Award. In addition to her J.D. from Southwestern, she earned a B.A. in Political Science and M.A. in Liberal Studies from Rutgers University. She is a member of the California State and District of Columbia bars.
Michael R. Blaha will be honored as Outstanding Adjunct Professor in Entertainment and Media Law. The award is presented to a member of the Southwestern adjunct faculty who teaches courses in entertainment, media, sports or intellectual property law and has demonstrated outstanding commitment to teaching and mentoring Southwestern students.
Professor Blaha is a highly accomplished entertainment attorney, theatrical and film producer and law professor. During the 30 years that he has taught at Southwestern, he has developed multiple courses, including Trademark and Unfair Competition Issues in the Entertainment Industry, Financing and Distributing Independent Motion Pictures, and Entertainment Litigation. He also co-created and taught the Capstone Entertainment Law course with Professor Robert Lind.
Professor Blaha established his own law firm in 1992 after a decade in studio and large firm settings. He specializes in entertainment transactions and litigation, with a focus on intellectual property claims, including copyright infringement and idea theft, first amendment issues, and film and television contract disputes. His transactional clients include independent producers, actors, writers, directors, and musicians.  He has acted as an expert witness for court and arbitration cases in Los Angeles, France, and the Philippines and serves as an Arbitrator for the Independent Film and Television Alliance.
Professor Blaha began his legal career as a litigation associate at Lillick, McHose & Charles, where he was a member of the entertainment law department.  In 1982, he moved to Columbia Pictures Industries, Inc., serving as Senior Counsel and then Vice President of Legal Affairs. Five years later, he became Vice President of Legal Affairs for Lorimar Telepictures Corporation.  Professor Blaha returned to Columbia in 1990 as Of Counsel.  He then became Of Counsel to the firm of Gradstein, Luskin, & Van Dalsem, where he handled entertainment and first amendment litigation cases exclusively, prior to starting his current firm.
Professor Blaha has produced over 50 plays in Los Angeles, New York, Chicago, Minneapolis, London, Hong Kong, and Edinburgh and is one of the founding co-producers of Sci-Fest L.A., the Los Angeles Festival of One Act Science Fiction Plays. His film producing credits include Chi Girl, The Dogwalker, and The Legend of Beaver Dam. He is president of New Musicals, Inc. and is on the Board of Directors of Filmmaker's Alliance, a non-profit filmmaker's collective. He earned a B.A. in Political Science at the University of Miami and a J.D. from Duke University School of Law.
Donald S. Passman will receive the Donald E. Biederman Legacy Award, an honor which recognizes a highly respected member of the bench or bar who upholds the highest standards of ethics and professionalism as a leader in entertainment and media law.
As one of the top entertainment attorneys in the U.S. who has been responsible for some of the largest record deals ever made, Don Passman has guided the careers of many of the most popular artists in the world, as well as publishers, record companies, managers, producers and other exceptional talent in the music industry for more than three decades.
A partner in the law firm of Gang Tyre Ramer & Brown, Mr. Passman is the author of the nonfiction bestseller, All You Need to Know About the Music Business (Simon & Schuster, 2016), now in its ninth edition. He also is the writer of three published novels. Mr. Passman has been listed in the Best Lawyers in America, as well as the Top 100 Lawyers in California, the Top 500 Attorneys in America, The Hollywood Reporter's Top 100 Entertainment Attorneys, and Southern California's Super Lawyers.
Mr. Passman is a passionate community activist who has served on the Board of Directors of a variety of philanthropic organizations, including the City of Hope and Beit T'Shuvah, and the Board of Governors of Cedars Sinai, among many others. He has also received numerous awards for his professional, civic, charitable and humanitarian efforts over the years. Among those honors: the American Jewish Committee/Los Angeles' 2012 Judge Learned Hand Award given to "outstanding members of the legal profession whose professional and community activities have played a significant role in the betterment of the community"; the Beverly Hills Bar Association's Entertainment Lawyer of the Year Award; the Texas Star Award for Contribution to the Field of Entertainment Law from the State Bar of Texas;  The Jewish Family Service Spirit of Humanity Award (with his wife Shana Passman); The City of Hope's Spirit of Life Award, and the American Civil Liberties Union of Southern California's  Torch of Liberty Award, created to "acknowledge contributions made by individuals from the media, arts and entertainment industries to the advancement of civil rights and civil liberties."
A graduate of the University of Texas and Harvard Law School, Mr. Passman has lectured extensively at Harvard, Yale, USC and UCLA law schools and for the American Bar Association. He was one of the first guests to appear in Southwestern's "Conversations with…" series sponsored by the Biederman Institute, and his son, Joshua Passman is a 2008 graduate of the law school.
The Donald E. Biederman Legacy Award is particularly meaningful to Mr. Passman who both worked with and represented Professor Biederman over the years, and considers him one of his early mentors.
For more information or to order tickets, visit www.biedermanawards.com or call Southwestern's Institutional Advancement Office at 213.738.6814. The SLS Hotel is located at 465 S. La Cienega Blvd., West Los Angeles, CA 90048. Individual tickets are $80; $45 for Nickel Club Members and $35 for Faculty and Students; sponsor levels include Platinum – Marquee Sponsor- $10,000; Diamond Sponsor- $5,000; Platinum Sponsor- $2,500; Gold Sponsor- $1,000; Silver Sponsor- $500; and Bronze Sponsor- $250.