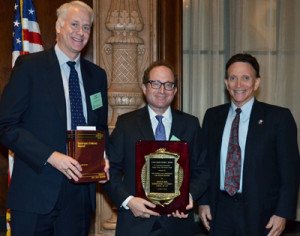 October 14, 2016
Southwestern Evening Student Wins Prestigious Award from Federal Bar Association
On October 6 at the Biltmore Hotel, fourth year evening student Aron Hier received the Judge Barry Russell Federal Practice Award presented by the Federal Bar Association.
Every year, the Los Angeles chapter of the Federal Bar Association grants the award to a student from each of the five Los Angeles-area ABA approved law schools to honor their achievement in federal courts or practice courses.
Hier received the CALI award for earning the highest grade in the Bankruptcy course he took with Professor Lovee Sarinas. He also won the CALI award in White Collar Crime. He is a Notes & Comments editor for Southwestern Law Review, where one of his articles will be published in a forthcoming issue. Associate Dean Byron Stier nominated Hier for the award.
"After working so hard in the very substantive and rewarding area of bankruptcy, it has opened my eyes to other areas of federal law, such as antitrust and procedure," Hier said. "I am humbled to receive this honor. I wish to thank all who made this possible."
Latest from the SW LAW BLOG