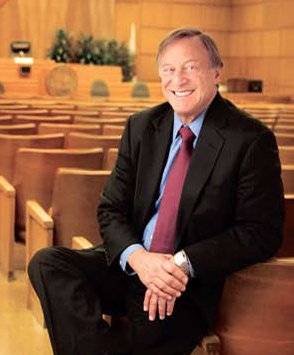 August 2, 2016
Southwestern Alumnus Judge David Wesley and Southwestern Students Play Key Roles in Award Winning Teen Court Program
The Los Angeles Superior Court Teen Court Program has been awarded the California State Bar Education Pipeline Award. Teen Court was created and initiated by Southwestern alumnus, the Hon. David Wesley '72 over 20 years ago. The partnership includes Los Angeles Superior Court and volunteer judges, Los Angeles County Probation, local school districts, volunteer attorneys and partnerships with law schools. In addition the families, police and community organizations help with restorative justice to aid the minors.
"The Los Angeles Superior Court is thrilled to receive this award from the State Bar of California, but this honor is not ours alone," Judge Wesley said. "Southwestern Law School has been an integral part of our Court's Teen Court Program. Professor Laura Cohen and others at Southwestern, along with many students, have worked with dedication and passion to further social justice and early intervention for troubled youth in Los Angeles. Our collaborative effort to reduce recidivism and encourage juvenile offenders to take responsibility for their actions, while teaching our student jurors about civic responsibility, has contributed greatly to a new way of thinking about the juvenile justice system. Thank you Southwestern for helping the Los Angeles Superior Court receive this wonderful recognition. I am proud of the partnership we have formed, which has helped our program expand to 38 high schools, and I hope that this award will encourage continued enthusiasm and commitment to the Los Angeles Teen Court Program."
Southwestern Law School has been involved with the Teen Court Program for 10 years. Teen Court diverts first time youthful offenders from the traditional juvenile justice system, allowing peers from other schools who question, judge and determine disposition recommendations for alleged offenders, providing a more meaningful court experience for all youth. Second, for the students who volunteer to participate as jurors, clerks and bailiffs, Teen Court offers valuable lessons about how courts operate and what it is like to be a part of the justice system. Many Teen Court jurors express an interest in studying law, and matriculate to law school. The law school has a partnership with five of the participating high schools, and recruits and trains law students to present jury instructions and help facilitate the jury deliberation process at their Teen Court sessions. The law student volunteers help the student jurors to understand the court process and guide them so they come to a fair decision. In addition, Southwestern regularly hosts our partners including Dorsey High School and Fairfax High School on campus each spring for a full day of programming. These outreach events provide an opportunity for the high school students to visit the law school campus, participate in law-related activities and have lunch with law students and faculty before a session of Teen Court is held in one of Southwestern's campus courtrooms.
Professor Laura Cohen, Director of Southwestern's Street Law and Public Service Programs, and past member of the State Bar's Council on Access and Fairness shared, "Southwestern is fortunate to be part of the collaboration and wholeheartedly congratulates Judge Wesley and the LA Superior Court Teen Court program for being selected as the recipient for this year's State Bar Education Pipeline Award. It is wonderful that Teen Court is recognized for their efforts, for their successful diversion program model, and for their impact to the community while supporting the pipeline. "
The State Bar of California Board of Trustees established the Education Pipeline Award in 2008 to recognize outstanding efforts of law-related educational programs that train and support students who are interested in the judicial system and careers in the law. The recipient is honored during a presentation at the Education Pipeline Award reception at the State Bar's Annual Meeting in September/October. The Award will be presented during the 15th Anniversary Diversity Awards Reception on Saturday, October 1, 2016 from 5:30-7:30pm at the Marriott Marquis Hotel, San Diego Marina.
Each year, the State Bar solicits nominations for the Education Pipeline Award from across California. All submissions are reviewed by the State Bar's Council on Access and Fairness, which provides recommendations to the Board of Trustees. To be considered, programs must demonstrate successful efforts to increase student awareness about the judicial system and knowledge about the legal profession and careers in the law.