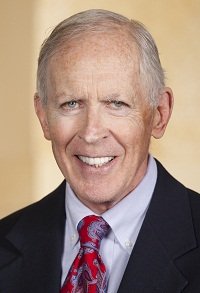 June 22, 2016
Professor Pugsley Retires
After 38 years with the Southwestern community, Professor Robert A. Pugsley retired at the end of the Spring 2016 semester. Southwestern's Dean Susan Prager met this news with mixed emotions:
"Professor Bob Pugsley has willingly carried a heavy load in the curriculum and has meant a great deal to so many of his students over the decades.  This makes his decision to retire a real loss for us. At the same time, I am so pleased that Bob intends to continue as a vital and active member of this community as Professor Emeritus in Residence. He will teach his two seminars in Spring 2017: Legal Arguments about Moral and Political Issues and Criminal Law Seminar: Contemporary Issues ("The Wire"). Equally, important, I know he will continue to advise and encourage students, support the Moot Court Honors Program students, highlight service in public interest and help Southwestern wherever and whenever he can."
Professor Pugsley's career as a legal educator began at his alma mater, New York University School of Law where he was a Robert Marshall Fellow in Civil Liberties. There he served as acting deputy director of the Criminal Law Education and Research Center and as a lecturer for the Advanced Criminal Law and Policy Seminar.
In 1978, Professor Pugsley moved to the West Coast to join the faculty at Southwestern where he spent three decades teaching Criminal Law, Torts, and the Legal Profession in the SCALE program, while also teaching in the day and evening programs. Throughout his career, he taught a range of criminal law courses and served for several years as the director of Southwestern's Summer Law Program in Vancouver, British Columbia. He was also founding faculty advisor to the law school's Public Interest Law Committee and helped pioneer its fundraising activities, a position he held for over a decade.
Professor Pugsley has also engaged in extensive service in Los Angeles and beyond, including service to such institutions as Friends of the UCLA Library.  Much of his service has related to public communication.  Here are a few examples: In the 1980's he produced and moderated KPFK radio's public affairs program: Inside L.A. In the 1990's he co-anchored the station's coverage of the U.S. Senate hearings on the Robert Bork nomination to the Supreme Court.
In 2000, Southwestern honored Professor Pugsley as the Paul E. Treusch Professor of Law. Professor Pugsley has written articles on legal ethics, jurisprudence, and a range of criminal law issues.  He has spoken on those topics before many professional and community organizations. A trusted legal expert, he has been interviewed and quoted extensively for a variety of major media outlets.
Professor Pugsley earned his B.A. (1968) from the State University of New York, Stony Brook (now: Stony Brook University). He earned his J.D. (1975) and LL.M. in Criminal Justice (1977) from New York University School of Law.
Latest from the SW LAW BLOG