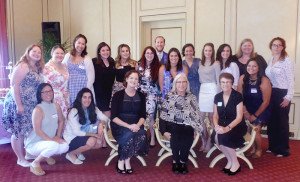 April 13, 2016
Women's Law Association Honors Alumnae at Annual Tea & Luncheon
On Sunday, April 3, Southwestern's Women's Law Association (WLA) hosted its Annual Spring Tea & Luncheon, to honor two prominent Southwestern alumnae with the "Woman of the Year" and "Lifetime Achievement" awards, and to present a practitioner panel.
The program featured a discussion on "Women in Law: The Unbeaten Path" with panelists Nicole Abboud '11 who has a solo practice in fashion and apparel law; Krystle Brown '11, in-house counsel at RKO Pictures, Business and Legal Affairs; Samer Hathout, Los Angeles District Attorney's Office, High Tech Crimes Division; and Tracy Webb '84, Deputy Counsel, Los Angeles City Attorney's Office, Cyber Crimes & Crimes Against Children. The speakers described their various career paths and discussed challenges presented by technology in the law and in society, most notably cybercrimes against children.
Cindy Johnson J.D.'00 and LL.M. '07, President of Southwestern's Alumni Association, was honored as WLA's 2016 Woman of the Year, and human rights lawyer Barbara Mulvaney '80, who served as prosecutor for the U.N. International Criminal Tribunal that successfully convicted the main perpetrators of the Rwandan genocide, was presented with the 2016 Lifetime Achievement Award.
"We chose to honor Barbara Mulvaney with the Lifetime Achievement Award because of all of her remarkable career achievements," said Lauren Williams, President of WLA. "From her successful prosecution of the top five military leaders in Rwanda and leading the fight against domestic violence, to her work here in the United States and the prestigious offices she's held, this award for her was essentially a no-brainer." 
"Cindy Johnson has been very involved with our organization, and was eager to help out in any way she could," Williams said. She explained that Johnson's decision to change her professional path to law from a successful career as an actress and producer was inspiring, as was her ability to maintain both a law practice and other businesses later in her career. 
A silent auction was held at the event with items donated to benefit the WLA Book Scholarship Fund. Graduating members of WLA were also honored and presented with graduation stoles.
To view photos from this event, visit Southwestern's Flickr page here.
Latest from the SW LAW BLOG