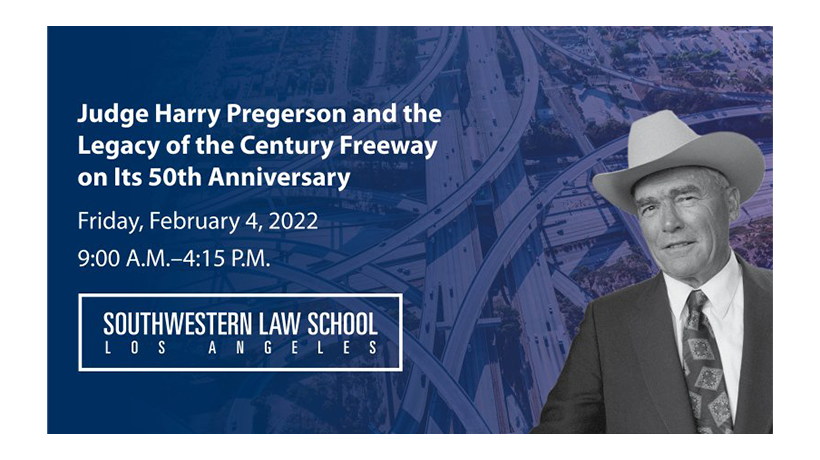 January 21, 2022
Southwestern Law Review Hosts: Judge Harry Pregerson And The Legacy Of The Century Freeway On Its 50th Anniversary — February 4, 2022
Friday, February 4th, 2022
9:00 A.M. - 4:15 P.M.
Register here 
The Southwestern Law Review is excited to present the 2022 Law Review symposium, Judge Harry Pregerson and the Legacy of the Century Freeway on Its 50th Anniversary, taking place on Friday, February 4, 2022, via Zoom webinar. 
 
Join us as we honor Judge Pregerson's dedication to a life and career in public service and the awe-inspiring example he set in increasing access to justice for all, human-centered perspectives on systems change, and forging relationships in building stronger and collective advocacy to address systemic inequities.
 
This symposium will explore the legacy of the landmark Century Freeway litigation, its impact on the affordable housing program, civil and environmental rights effects, affirmative action implications, as well as the big picture meaning and future legacy for both the region and for California as a whole. 

This year's Symposium will also feature the inaugural Judge Harry Pregerson Public Service Alumni Award Ceremony honoring outstanding recent graduates of Southwestern Law School whose professional lives and careers reflect the values of the late Harry Pregerson.
 
Made possible by the Rodan Family Foundation and in collaboration with the Public Service Program, Southwestern is thrilled to honor two exceptional individuals, Karina Godoy, '15, Associate Attorney, JML Law and Andres Holguin-Flores, '15, Staff Attorney, Mexican American Legal Defense and Educational Fund.
Click here to visit our event page for more details.