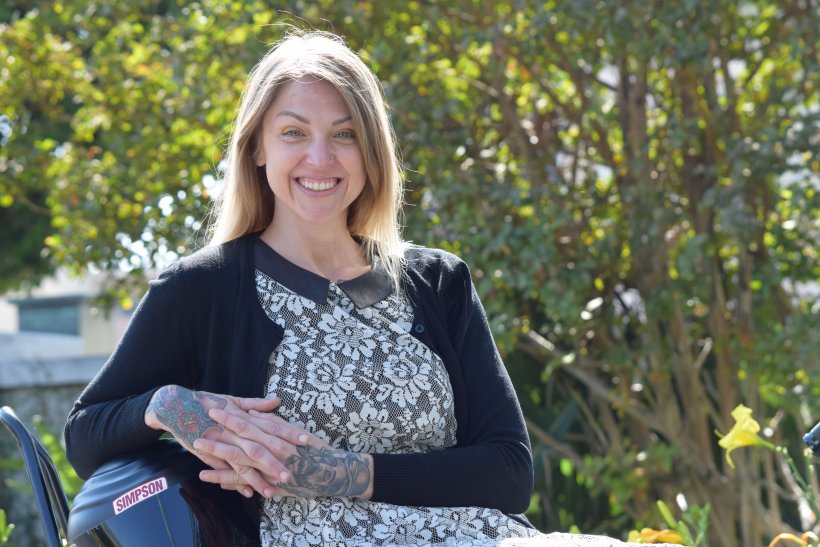 September 22, 2021
Haley Pollock '21 is Democratizing Access to Justice
By Steven Lopez
Haley Pollock arrived at Southwestern Law School in the fall of 2018 with a remarkable drive to develop the practical legal skills and theoretical foundation needed to become an outstanding advocate for economic and social justice. A veteran community organizer and strategy-oriented activist, much of Pollock's volunteer work centered on advocacy for unhoused populations around Los Angeles. Her work was making an impact, but she knew she could do more. 
"I felt like I was showing up and providing dignity for the unhoused. All the while, I'm seeing people living in encampments having their tents thrown out, their medication confiscated, their birth certificates taken. A key reason I chose to attend law school was to address these issues at the systemic level," she says.  
Now, as a Housing Justice Fellow at Inner City Law Center's Tenant Defense Project, Pollock fights proudly on the frontlines of one of California's most critical issues – housing rights. Still, her road to becoming an attorney was laden with both triumph and trauma. 
They brought me in, they asked for nothing 
A naturally gifted, over-achieving high school and college student, Pollock experienced housing insecurity, domestic abuse, and addiction throughout her adolescence and early adult life. When her tempestuous relationship with her parents led to bouts of intermittent homelessness, she found refuge in welcoming lower-income communities of color. Coming from a middle-class, suburban upbringing, this experience awakened Pollock not only to critical issues of racial and economic inequity but the countervailing forces of selflessness, generosity, and community. "Looking back, I realize that the people that took me in are all members of marginalized groups. They didn't have rooms. They brought me in, they asked for nothing."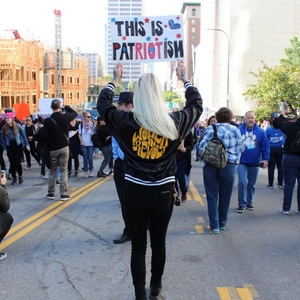 Later, Pollock was taken in by her grandmother, also a victim of domestic abuse. In seeing her beloved grandmother's struggle and trauma up-close, she recognized how economic instability, the challenges of being a young parent, and the trauma of sexual assault impact one's life possibilities and potential. 
"I think it's so entwined in why I do what I do, because she has been my rock forever, but she had to sacrifice her education, her relationships. She had to make sure that my mom and my uncle were taken care of." A heavy lift for any parent, let alone a 16-year-old one. 
These experiences and relationships mobilized Pollock into activism and eventually brought her to law school. 
A first-rate legal mind 
Pollock's deep experience in community organizing and activism informed the path she would take as a law student, entering Southwestern with a rare focus and zeal. "I'm interested in doing public interest work that deals with people's ability to lead a complete life," she says plainly, issuing a mission statement that feels revolutionary in its holistic elegance. 
Given her focus on public interest, Southwestern was a natural choice. "It was my number one pick. I applied because they have excellent clinics, offer incredible experiential learning opportunities, and have a department that would allow me to concentrate on public interest - which I did with honors." 
She dove headlong into the law school experience and excelled, amassing a resume of accomplishments too extensive to list fully. She served as a Dean's Fellow, Writing Fellow, and a Law Review staffer. She secured a coveted place on the Moot Court Honors Program while she co-chaired the Public Interest Law Committee. 
Her extracurricular activism and volunteer work were herculean. In 2019, she served on a regional council for NARAL and helped advance the passage of two landmark state bills that support reproductive justice. Pollock then spent her second summer in law school as a volunteer legal clerk working with low- and no-income families on family law while simultaneously volunteering with the legal aid foundation in Santa Monica to provide free consultation and advice to indigent folks contending with housing issues. By all accounts, Pollock was performing at the level of a seasoned attorney while in law school. 
 "Haley was the type of student who makes me proud to teach at Southwestern," says Professor Christopher Cameron, a luminary in Labor and Employment law. He saw Pollock's potential early on. "She is a first-rate legal mind, a tremendous writer, and a dedicated professional. Haley walks the walk by helping folks who historically have been denied access to justice: people of color, immigrants, women, and of course, the poor." 
The admiration is reciprocal. "His mentorship has been invaluable to me. He is brilliant," says Pollock. 
"Her leadership style is unique in that it not only builds consciousness amongst her peers but creates leadership opportunities for her peers," praised Professor Julia Vázquez, Director of our Community Lawyering Clinic, during an award luncheon honoring Pollock's work. Professor Vázquez worked closely alongside Pollock on a collaborative legal clinic that screened migrants seeking asylum. "She was so professional and passionate there were times I forgot I was working with a student and instead felt like she was a colleague." 
I'm going to help all these people keep their homes
Pollock has recently begun her work at Inner City Law Center's Tenant Defense Project as a Housing Justice Fellow, where she fights to preserve safe and decent housing for low-income tenants threatened or in imminent danger of homelessness due to eviction. Even as a recent graduate, she feels fully prepared and galvanized to do the work. "I attended trainings for the first two weeks and was recently paired with a staff attorney. It's been challenging but rewarding work." 
All the while, she is bracing for "the tsunami" that looms ahead. 
As of September 2021, about 744,000 California households, including 912,000 children, owed back rent in August, with the average amount overdue at $3,500. As COVID begins to recede and the eviction moratorium is eventually lifted, many California renters will be cast to sea with no life preserver. Absent a policy solution to address this challenge, it will be left to organizations like the Inner City Law Center and attorneys like Pollock to protect renters in danger of losing their homes. 
"I don't understand how anybody in our state or federal legislature believes that people who make less than a living wage, who have been out of work for months, can afford to pay months of back rent to keep their home," Pollock laments. Indeed, the Federal Reserve reports that 39% of Americans don't have enough money on hand to cover a $400 emergency, let alone a $3,500 one. 
And now Pollock, the zealous advocate, brilliant community organizer, preternaturally gifted law student, and recipient of a prestigious fellowship, stands poised and prepared athwart the tsunami: "Having a house and having your basic needs met is essential to living out the ideals of what we characterize as the 'American dream' - autonomy, freedom, health, happiness. You can't achieve those if you cannot secure affordable housing; I'm going to help all these people keep their homes."  
Latest from the SW LAW BLOG