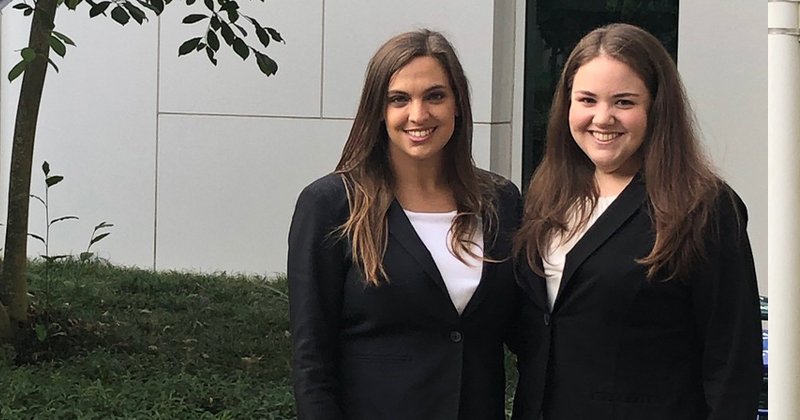 June 24, 2020
Alexis Bartholomew '20 and Nadia Aboujawdah '20 are Superstar Advocates for the Children's Rights Clinic
Congratulations to new graduates, Alexis Bartholomew '20 and Nadia Aboujawdah '20, on their Children's Rights Clinic victory!
Alexis and Nadia recently achieved exciting results for a client in the Children's Rights Clinic. In their last semester, they worked diligently on a school discipline matter where the school district was trying to remove a student based on an alleged offense. The student had never been in trouble prior to this alleged incident and was recently diagnosed with a serious behavior disorder. This student was not receiving special education services, and the district had failed to assess him for prompt support.
Alexis and Nadia advocated postponing the expulsion hearing while the student's education evaluation was pending. At first, the district denied their request; however, through their exceptional writing skills, the duo convinced the district to postpone. They continued to advocate and successfully worked out a settlement agreement with the district council. Their client avoided expulsion and gets to start his high school career at his home school for the next school year. No record, no other conditions or stipulations. And, he will get the needed support to succeed in school!
"Being a part of the Children's Rights Clinic this past semester was an amazing experience.  With the help and support of our fantastic supervisors, Professor Fee and Professor Waterstone, we were able to learn this entirely new area of law, and we were given the amazing opportunity to advocate for our clients in a way that we have not yet been able to.  This particular case was definitely a difficult situation to navigate, but it was so worth it, and the fact that we got such a favorable result was just the icing on the cake.  We are so grateful for the opportunity to have been a part of the Children's Rights Clinic.  It really is an amazing program that Southwestern has to offer!"

- Alexis Bartholomew '20
Alexis and Nadia's achievement is made all the more impressive considering the hurdles they faced working around COVID-19 restrictions and the "stay-at-home" ordinance that went into effect. School districts closed throughout the county, and given that no administrators were available to hold the discipline hearing or provide their client with the necessary academic and social-emotional support, it was probable that their client would remain out of school indefinitely. However, Alexis and Nadia refused to give up and leave the situation as-is for their client. 
"...If you know Alexis and Nadia, then you know that they are not average students. They are incredible advocates, so dedicated to their clients and unwilling to accept the status quo when that does not benefit their client's best interests."

- Dean Julie Waterstone, Associate Dean for Experiential Learning  and Director of the Children's Rights Clinic
Thanks to their determination and hard work, they were able to achieve this favorable outcome for their client. Please join us in congratulating Alexis and Nadia on their incredible victory! The Southwestern community could not be more proud! 
Latest from the SW LAW BLOG