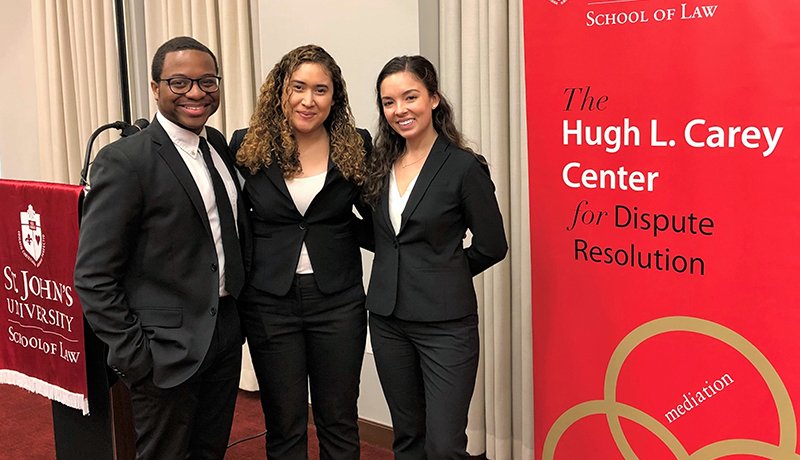 October 22, 2019
NHP Stars Nab the Silver at ADR Triathlon (New York, NY)
Congratulations to Arielle Farias, Shaughnessy Flint, and Heidy Nurinda, on competing in the 2019 St. John's Law FINRA Securities Dispute Resolution Triathlon on October 19th and 20th in New York City. The team finished in 2nd place in the Arbitration round and won 2nd place in the overall competition, defeating teams from top schools across the nation such as Cornell, NYU, Georgetown, and the University of Texas. Way to go, team!   
 
The Triathlon is a unique competition because it includes negotiation, mediation, and arbitration in a single event. Students are asked to negotiate a resolution, represent their clients in mediation, and then proceed to arbitration before a three-person panel. The mediators, arbitrators, and judges were professional neutrals from the Financial Industry Regulatory Authority (FINRA). 
 
This year's problem involved violations and obligations under FINRA. The team did Southwestern proud and performed so well that the judges were glowing with praise for their performance in all three rounds. 
"Attending the St. John's ADR competition has been one of the highlights of my law school experience. We enhanced our negotiation skills and learned so many new things, like how to effectively use a mediator, how to prepare our witness for cross-examination, and how to put on an opening and closing. It has been such a great experience to learn all about different avenues of dispute resolution. I could not have asked for more dedicated teammates and coaches. All the preparation and the late nights paid off." 

- Heidy Nurinda, 3L
Their coach, Professor Cristina Knolton, commended the team on their hard work and dedication. 
"The students worked so hard for the past two months. They mastered every legal argument and knew each detail of the relevant FINRA rules. They were so knowledgeable about the rules that the arbitration panel asked the Southwestern team to help clarify and explain the rules to the panel.  It was extremely impressive and a very proud moment for our school. Congratulations to Heidy, Shaun, and Arielle!"  
Thank you to the Negotiation Honors Program and their faculty directors, Professor Cristina Knolton and Professor April Macaraeg, for their hard work and support in preparing this team!