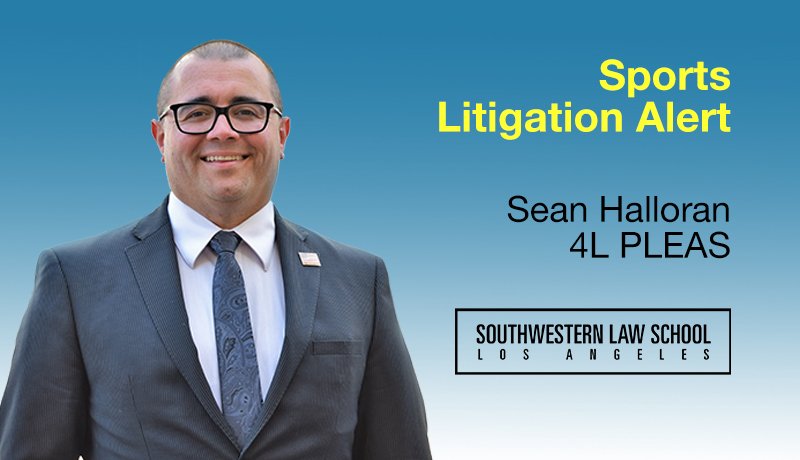 October 7, 2019
NFL Pegs Article by Student Sean Halloran and Professor Birren '85 a "GOOD SUMMARY." What say YOU?
by Matthew Stein '21
Sean Halloran, a criminal law enthusiast turned sports law writer, has published an article in both Sports Litigation Alert and Professional Sports and the Law! With the help of his team captain, Southwestern's sports law professor, Jeff Birren '85, this all-star team was able to execute the perfect article and get the literary "touchdown." Their piece, "DeMeco Ryans and a Career-Ending Injury: On to Arbitration!" presents the story about an ex-NFL player and his legal battle against the Houston Texans. The case revolves around DeMeco Ryans, a two-time All-Pro linebacker in his 9th year, whose career was cut short by a negligently maintained field. The issue at hand was whether Ryans was allowed to sue the Texans for their field conditions. 
We encourage you to read this gem of an article, and hopefully, the video below will provide more context. 
This is what Sean had to say about his experience:
I had so much fun co-writing this article for Sports Litigation Alert with Professor Birren. He offers all of his students the opportunity to co-write an article for a legal journal. I was happy to take him up on the offer.
After the article was published, Professor Birren sent it to someone at the NFL who responded to him "good summary." When Professor Birren shared the response with me, I felt validated as a law student. As someone who struggled with analyzing the law when I started law school, this compliment was a watershed moment. It helped me to see how far I've come and also how much Southwestern has enabled me to develop my legal mind.
"If anyone at our school is serious about sports and the law, you must take Professor Birren's class. He is so much fun to learn from and he offers you a unique opportunity to get exposure at the top of the tight knit sports entertainment community. It's all about who you know and Professor Birren gives you the opportunity to present yourself."

- Sean Halloran, 4L
Terrific job Sean!
Read Sean's article in Sports Litigation Alert, Volume 16, Issue 16 and in Professional Sports and the Law, Volume 10, Issue 4 (subscription required).
Latest from the SW LAW BLOG