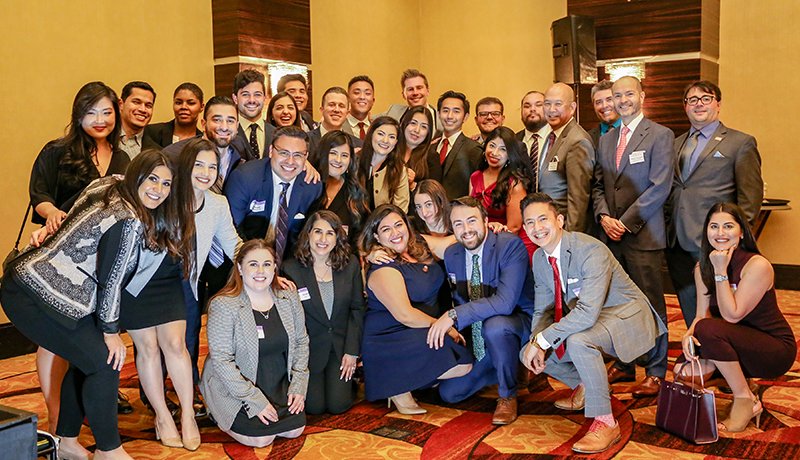 May 3, 2019
2019 Intramural ReCap
On Saturday, April 13, 2019, Southwestern hosted its annual Intramural Competition Awards Banquet at the L.A. Hotel in Downtown Los Angeles. The celebration marks the completion of the three simultaneous intramural competitions for 1Ls in Southwestern's unique three-track Legal Analysis, Writing, and Skills (LAWS) Program. The students wowed judges as they showcased their newly-developed and honed legal skills at the intramural competitions across three disciplines: Appellate Advocacy (Moot Court), Negotiation, and Trial Advocacy.
As a requirement of the Spring LAWS II course, all students must participate in a mandatory round of oral advocacy corresponding to their LAWS track. This year, following the mandatory rounds culminating the LAWS course, a total of 186 students continued onto the Intramural rounds: 53 for Moot Court, 88 for Negotiation, and 45 for Trial Advocacy.
In the Appellate Advocacy round, students presented oral arguments in a hypothetical legal case; in the Negotiation round, students engaged in simulated contractual negotiations; and in the Trial Advocacy round, students examined witnesses and presented closing arguments in a mock trial setting.
Professor Tracy Turner, Director of the LAWS  Program and a Semi-Final judge for the Moot Court Intramural Competition, had this to say about our 1L competitors:
"It is always a privilege to watch our 1L finalists. At the Moot Court rounds, the judges often tell us that our students show more preparation and poise than many of the practicing attorneys who argue in their courts. I'm sure the story is the same in the other competitions. The commitment to excellence that these students show at a time when they are under considerable stress as they finish their papers and ramp up for exams is so admirable. We just know they are going to rock the legal world!"

- Professor Tracy Turner
The students who excelled in oral advocacy and brief writing in one of the three competitions were recognized at the banquet and are eligible to interview this summer for membership in the Moot Court Honors Program, the Negotiation Honors Program or Trial Advocacy Honors Program. Congratulations to the finalists from the intramural rounds!
---
Moot Court (Appellate Advocacy)             
First Place - Evan Barr

Second Place - Andrew Liss

Semi-Finalists - Byron Lansford & Jacqueline Lendvai
Thank you to the Hon. Rives Kistler, Oregon Supreme Court; Hon. Sabrina S. McKenna, Hawaii Supreme Court; and Hon. Ann A. Scott Timmer, Arizona Supreme Court for judging the final round. 
---
Negotiation
First Place - Abraham Bran and Samantha Dennis
Second Place - Rijenea Appling and Kelly Chacon
Third Place - Louie Mbarkeh and Tamar Chobanian
Fourth Place - Victoria Couch and Rosemary Tamayo
Thank you to Attorney Paul Bent, Assistant Vice President for Diversity and Inclusion of Claremont McKenna College Nyree Gray, Indiana University Bloomington Dean Austen Parrish, and Rajendra Sardesai '93 for volunteering their time to judge the final round. 
---
 Trial Advocacy
1st Place Advocate - Mark Montellana
2nd Place Advocate - Andrea Lee
Semi-Finalists - La Shannon Lewis &  Ryan Waller
Thank you to U.S. Attorney for the Central District of CA Nicola Hanna and Acting Alternate Public Defender Erika Anzoategui for judging the final round. 
Latest from the SW LAW BLOG