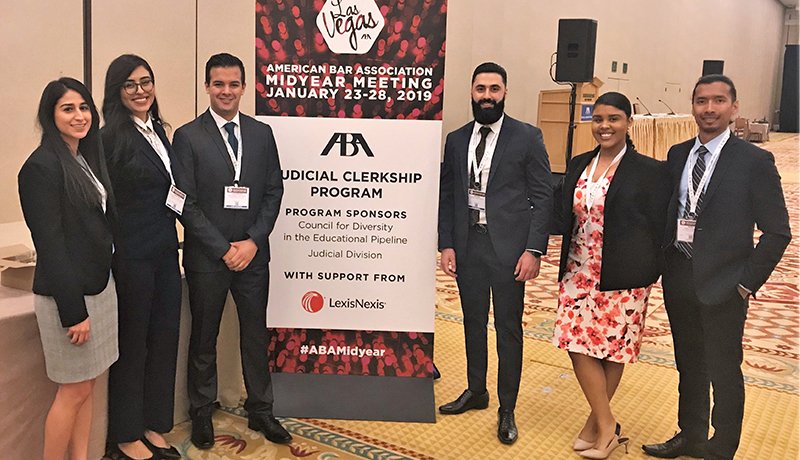 February 27, 2019
Southwestern Sends Six Students to the 2019 ABA Judicial Clerkship Program in Las Vegas, Nevada
For the third year running, Southwestern sponsored six students to participate in the Annual ABA Judicial Clerkship Program, a three day program designed to introduce a culturally diverse group of law students from around the country to judges and law clerks. This year's exceptional group of selected scholars were:
Tyler Garber, SCALE 2L
Nicole Arias, 2L
Jennifer Covarrubias, 2L
Mark Okumori, Part-Time 2L
Alejandro Rosa Mata, 1L
Eduard Mkhitaryan, 2L
The 2019 ABA Judicial Clerkship Program was held on Thursday, January 24 through Saturday, January 26, during the ABA Midyear Meeting at Caesar's Palace Hotel in Las Vegas, Nevada.
During the three-day program, students explored legal issues, performed legal research, prepared legal memoranda or briefs, and defended their positions to their colleagues and to the judges and Pipeline members.
"I am incredibly grateful to Southwestern Law School and the American Bar Association for the opportunity to participate in this year's Judicial Clerkship Program. Over the course of the program, we met and worked with federal, state, and administrative judges from all across the country. We also participated in research training projects and heard oral arguments before the Nevada Court of Appeals. The JCP was a great experience and one that I would strongly recommend to anyone interested in a judicial clerkship."

- Alejandro Rosa Mata, 1L 
The ABA Judicial Clerkship Program is a joint collaboration of the ABA Council for Diversity in the Educational Pipeline and the ABA Judicial Division. The mission behind the three-day immersive program of structured networking and instructional activities is to bring judges and underrepresented and diverse law students together. The program is intended to encourage students to apply for a judicial clerkship by educating them and introducing them to the life-long benefits of one. It also encourages judges to consider culturally diverse students that they might not otherwise have considered for a judicial clerkship. 
"Attending the ABA Judicial Clerkship Program was an amazing opportunity to connect with judges, lawyers, and law students from around the country. It has inspired me to pursue a judicial clerkship after graduation. I am very excited to be externing as a judicial clerk for the EEOC this semester."

- Nicole Arias, 2L
Interested in learning more about judicial clerkships and how you can apply for one? 
Attend the Judicial Clerkship Panel, happening on March 7, 2019, from 5:00-6:00PM in Salle Moderne!
Latest from the SW LAW BLOG