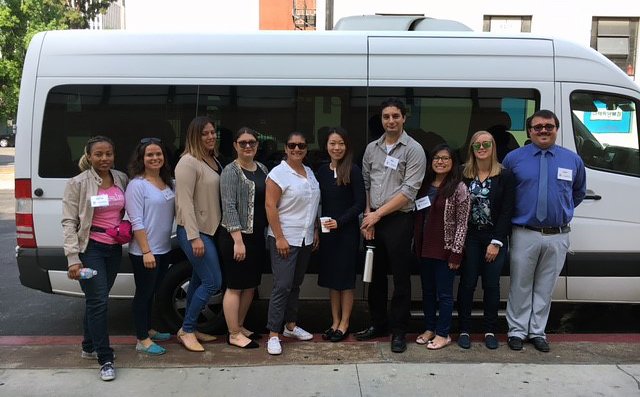 July 17, 2017
Southwestern Students, Alums Take Bus Ride for Justice
For a community in need, it provided free legal services to the underserved. For Southwestern Law School students, it presented an opportunity to use their knowledge and skills in service to others.
Southwestern students and graduates volunteered their time to join the summer Justice Bus trip to Fillmore, California on Saturday June 24, helping 12 clients who needed assistance with the immigration and naturalization process.
The Justice Bus Project, coordinated by the legal services innovation lab OneJustice, enlists teams of volunteer attorneys and law  students to travel to rural and isolated communities and set up free legal clinics for low-income residents who otherwise would have limited or no access to such services.
Southwestern and OneJustice also teamed up with El Concilio Family Services and the Fillmore Unified School District for this summer's day-long trip.
Mai Nguyen, an Equal Justice Works AmeriCorps legal fellow with OneJustice, lauded Southwestern's volunteers for their dedication.
"OneJustice greatly values the commitment from Southwestern students and graduates to provide their time and legal skills to the rural communities in Southern California," Nguyen said. "Over the past seven years, they have assisted over 350 clients with the help of over 200 volunteers, which has greatly benefited the justice gap."
Norma, from the Fillmore Unified School District, also had high praise for the effort.
"OneJustice gives hope to families who are most in need, and their volunteers' efforts will be multiplied a thousand times by the children of those recipients in years to come, she said."
The clients who received the assistance also expressed appreciation for the assistance.
"I am very thankful for all the help I received today," said one client about the clinic. "All of the volunteers were so nice and friendly."
Professor Laura Dym Cohen brought the idea of participating in the Justice Bus Project back to Southwestern after attending the annual Equal Justice Conference and hearing OneJustice's presentation on plans regarding their program in Northern California. The school's first trip was during the 2009-10 school year, making Southwestern the first law school to partner with OneJustice on the program in Southern California, Cohen said. 
"Southwestern has continued to serve as a cornerstone partner, as we have helped to strengthen the network for legal services in rural and isolated communities throughout Southern California," she added.
The Justice Bus clinics offer legal assistance to low-income veterans, seniors, children with disabilities, low-wage workers, and immigrant youth and their families, and effort in line with the aim of Southwestern's Public Services Program, which encourages students to volunteer 75 hours by the time they graduate.
"Public service is an important way for students to gain experience and develop legal skills, enhance their exposure to substantive law, as well as build relationships with attorneys and local community organizations," Cohen said. "Justice Bus trips are one of many opportunities we provide to help engage our students in volunteer work using their legal skills."
Past participants in the program called the experience "rewarding," "priceless," and evidence that the law applies to everyday problems and "can help people make their lives better."
For more information on the Justice Bus Project, visit here.