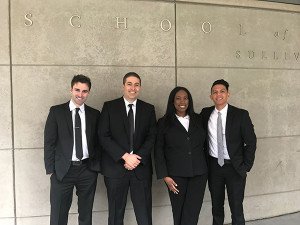 March 9, 2017
Southwestern Triumphs at ABA Representation in Mediation Competition
Last weekend, Southwestern's Negotiation Honors Program sent two teams to the regional round of ABA Representation in Mediation competition in Seattle. Out of 16 competing teams, Southwestern dominated. After day one of competition, three teams tied for first place, and two of the three teams were from Southwestern.  After applying the tie-breaking procedures, Joe Nuñez and Nico Mamone advanced to the final round where they won the competition by defeating the team from U.C. Berkeley. This win advances Nuñez and Mamone to the national competition in San Francisco, where they will compete again in April.
While Southwestern's other team of James Samson and Carshena Culmer were officially declared semi finalists, they actually finished the competition in third place.
Professor Cristina Knolton, who coached the team with her husband Derek Knolton noted the strong performances from both teams: "All four students were incredible at thinking on their feet and coming up with creative solutions. Joe and Nico had an elite ability to understand the real-world application of the negotiated terms. James and Sheena were especially skilled at listening critically to the interests of the other side and finding ways to satisfy those interests without sacrificing the needs of their client. I am so proud of all the hard work they each put in to prepare for competition, but I am especially proud of how they supported each other throughout the weeks of preparation and at the competition itself. They were truly a team in all respects."
In the first round, teams negotiated a deal between two business partners. In the second round, they negotiated on behalf of a hotel that wanted to implement an experimental hotel model on a remote island and the residents on the island protested. In the final round, Nuñez and Mamone represented the Astronomy Foundation in a negotiation with the historic Premier Mansion over a venue booking dispute.
Latest from the SW LAW BLOG