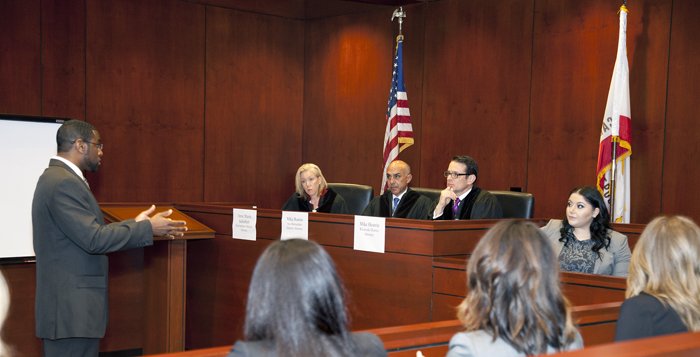 April 14, 2016
Strong advocacy skills help first-year LAWS students excel in Intramural Competitions
Since 2009, Southwestern has offered a unique, three-track Legal Analysis, Writing and Skills (LAWS) curriculum for students. It is especially thrilling to watch first-year students display their newly-cultivated abilities across three disciplines: traditional Moot Court (appellate), Trial Advocacy and Negotiation. This year's 1Ls continued to wow judges when they argued, wrote and negotiated in Southwestern's 2016 Intramural Advocacy Competitions. On April 9 at the Line Hotel, the oral advocacy and writing award winners were announced.
Prominent members of the bench and bar served as judges for the final rounds in all three tracks. Following the mandatory rounds culminating the LAWS course, a total of 173 students out of 292 participated in the Intramural rounds: 59 for Moot Court, 66 for Negotiation and 48 for Trial Advocacy.
Dean Susan Prager praised everyone who opted into the competition. "Well more than half of the 1L class chose to participate," she said. "All of you who came forward after the required rounds have gained immeasurably."
Those students receiving special recognition excelled in oral advocacy or brief writing in one of the three competitions, and are eligible to interview this summer for membership in the Moot Court Honors Program, Negotiation Honors Program or Trial Advocacy Honors Program (TAHP).
Moot Court/Appellate Competition
When the judges in the Moot Court competition held at the Ninth Circuit Appellate Court in Pasadena gave their feedback, they were consistently impressed with the level of preparation that the finalist advocates brought to the tournament. Evening student Tina Robinson won First Place Oralist and SCALE student Carlos Hernandez took Second Place Oralist.
Robinson, who works full-time as a home health physical therapist during the day, praised her LAWS Professor Kathryn Fehrman. "She is awesome," Robinson said. "I kept hearing her voice in my head when I was thinking through what questions the judges may ask … she often would say to us, 'keep asking why why why?'. She is a great mentor in many ways."
Robinson hopes to join the Moot Court Honors Program. "I am incredibly honored and grateful, and still a little shocked," she said. "I didn't think I would make it this far, especially since I switched from the Trial Advocacy track. My opponents were very talented, and I appreciate being able to learn from their skills, along with being able to learn from the judges' suggestions."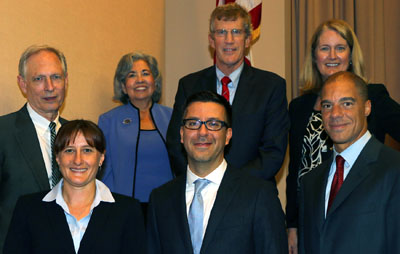 The final bench included Hon. Robert J. Cordy, Massachusetts Supreme Judicial Court; Hon. Rives Kistler, Oregon Supreme Court; Hon. Petra J. Maes, New Mexico Supreme Court; Hon. Ann A. Scott Timmer, Arizona Supreme Court; and Hon. Paul J. Watford, United States Court of Appeals, Ninth Circuit.
Before he announced the winner, Judge Watford, who presides in the same courthouse where the students argued, said, "I actually thought both of you did a much better job than the advocates that we normally see here. It really is a testament to your skill. You did a great job of listening to the questions, processing the questions and formulating a direct answer. I can't believe how poised both of you were!"
Rosio Flores (full-time day program) and Kara O'Brien (full-time day program) were the Semifinalist Oralists. Quarter-finalist oralists included: Matilda Barseghian (full-time day program), Norayr Mejlumyan (full-time day program), Kevin Poush (SCALE) and Lindsey Walz (full-time day program).
In the brief writing portion of the competition, Nancy Martinez (part-time evening program) won First Place Brief. Full-time day students Taylor Condit took Second Place and Mircea Tala earned Third Place, and Rita Dilorenzo (part-time evening program) took Fourth Place.
In this year's moot court problem, students analyzed whether drivers using a ridematch platform are employees of the company that developed and continues to operate the platform. The company at issue is similar to Uber and Lyft but with significant differences that arguably distinguish the hypothetical case from published cases involving Uber and Lyft. The question of employee status arises under various provisions of the California Labor Code that the drivers allege the company violated by misclassifying them as independent contractors.
"This year more than ever before, students' took the facts of the problem in directions that I did not envision when I wrote the problem," said Professor Tracy Turner, Director of the Legal Analysis, Writing and Skills Program at Southwestern. "This year's problem really challenged students to dig deeply into a substantial factual record and make creative arguments.  As always, they rose to the challenge and impressed all of the judges.  As a faculty member, I was grateful that our competitors represented the school so honorably.  It was hard to imagine even a seasoned attorney doing a better job."
Negotiation
In the Negotiation Competition, where students traditionally argue in pairs, a technical glitch left one 1L student to advocate solo. Joe Nuñez (SCALE) had actually chosen the traditional appellate advocacy track, but he decided to take a chance on negotiation. And it paid off in dividends when he was announced as the First Place Winner at the Awards Banquet. He is the first 1L to compete and win on his own in the Negotiation Intramurals.
"I opted to switch to negotiation for the competitive rounds," Nuñez said. "The irony is that I felt really great about my performance in my mandatory moot court round, but I wanted the negotiation experience based on what I see myself doing in the future. When I entered the negotiation competition, I wasn't necessarily aiming to be on the team, but now I'm definitely hoping I'm granted an interview. I hear excellent things about the program, and I would love to learn the craft under Professor Cristina Knolton's tutelage."
His experience as a policy analyst, healthcare administrator and operator of a real estate brokerage and consulting firm gave him a broad base of experiences that he tapped into during the competition. "I didn't feel that I was as polished as the other competitors in terms of the mechanics/procedures of an actual negotiation (because I was coming from the appellate track), so I simply went about it as though I were back in the workforce," Nuñez said. "I applied real world solutions and justifications whenever the fact pattern allowed for it."
Full-time day program students Vera Hovhannisyan and Blanca Martinez earned Second Place. Asaf Macabi and Daniel Reutskiy (both full-time day program) finished in Third Place, and Lacey Chrabaszcz (PLEAS) and Ines Morales (full-time day program) took Fourth Place. Sanaz Meshkinfam (PLEAS), Shant Nashalian (full-time day program), and Logan Pascal (full-time day program) were the top three brief writers.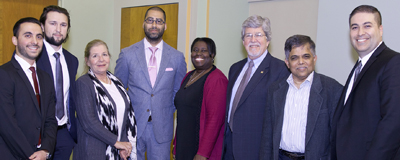 "The students did an incredible job of representing their client's interests," said Professor Cristina Knolton, who serves as faculty advisor for the Negotiation Honors Program. "Each student brought a different strength to the table, and ultimately, all parties were able to mend the broken relationship between their clients and create a new business relationship that would be profitable for both sides. The students were smart, articulate, and persuasive. The students' ability to think on their feet was impressive, as was their ability to advocate aggressively, yet professionally, for their client. The advocacy skills demonstrated in the final round were a great representation of the caliber of students we have here at Southwestern."
The negotiation in the final round was between Tomcat, a parody of Playboy, and LVP, Inc., a licensing agency. Tomcat sought to expand its business beyond the entertainment magazine industry. To accomplish this, Tomcat contracted with LVP to identify opportunities to expand its business in the spirits (vodka) industry. The agreement between the parties led to a contractual dispute. The goal of the negotiation was to settle the dispute as well as negotiate a new contractual arrangement between Tomcat and LVP. Some of the issues that the students needed to negotiate included the type of agreement between the parties, the amount of royalty payment, and the amount of installment payment. The students were also asked to negotiate specific contractual language to safeguard from future contractual issues.
Judges for the final round of the Negotiation Competition included: Paul Bent '78, Senior Managing Director, The Alta Group, LLC and President & General Counsel, GoodSmith & Co. Incorporated; Nyree Gray '99, Assistant Vice President of Diversity and Inclusion/Chief Civil Rights Officer, Claremont McKenna College; Neil Ollivierra '07, Adjunct Associate Professor of Law at Southwestern and EVP, Business & Legal Affairs, US Motion Picture Production, EuropaCorp; Rajendra Sardesai '93, manager, scientist and attorney; and Angela Rose White '78, President & Founder, DaBet Music Services.
Trial Advocacy
In the Trial Advocacy Competition, Roger Wilkerson (full-time day program) won Best Advocate and Adam Kevorkian (part-time evening program) was named Second Place Advocate.

"Competing in and winning the TAHP intramural competition was a pivotal moment in my life that provided me with invaluable experience," Wilkerson said. "I am forever grateful to Southwestern for having such a unique program and competition. In addition, I would like to thank the entire TAHP organization, my professors, and BLSA (Black Law Student Association) for their hard work, accessibility, and genuine considerate nature."
Kevorkian said, "My LAWS professor, Kathryn Fehrman, provided an excellent foundation that carried me through the competition.  Because the rounds were so intense, my growth was exponential, and my curiosity about litigation has evolved into a passion."
Full-time day program students Mina Elmasry and Alyssa Romanini were the semifinalist advocates. Elmasery also was named Best Brief Writer, along with Charlie Sparkle (PLEAS).
The championship round was presided over by an illustrious three judge panel consisting of Hon. Michael Hestrin, Riverside County District Attorney; Hon. Michael Ramos, San Bernardino County District Attorney; and Hon. Anne Marie Schubert, Sacramento County District Attorney.
Competitors argued a fictitious case, a murder trial of a former "U-Cab" driver accused of murdering the company CEO.  The defendant had recently lost a lawsuit against U-Cab, and advocates for the prosecution and defense formed arguments based on a wide range of evidence that both supported and cast doubt on the defendant's alleged guilt.
View more photos from the 2016 Trial Advocacy & Negotiation and Moot Court Competitions.
View photos from the 2016 Intramural Reception.
Watch the livestream of the final round of the appellate (Moot Court) competition.