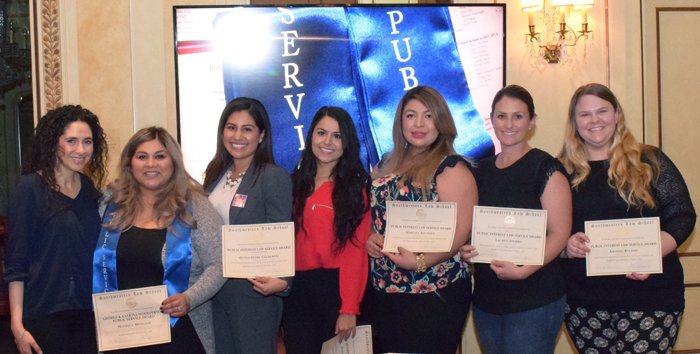 April 22, 2016
Southwestern Students Honored for Public Service Contributions at Annual Lunch
Public interest is a central component of Southwestern's curriculum and philosophy, and students are encouraged to participate in public service through a wide range of programs and individual pursuits. On April 18, Southwestern students and faculty gathered at the Annual Public Service Awards Luncheon to salute all the students who have collectively volunteered thousands of hours over the past year to provide free legal services to those in need. Special recognition was also given to graduating PLEAS student Monique Moncayo, winner of the George and Katrina Woolverton Public Interest Award, and to the five recipients of the 2016 Public Interest Law Service Awards: Maritza Agundez, Elina Avagimova, Genovpetry Calderon (with Distinction), Lauren Fierro and Amanda Ryland.
To earn the Woolverton Award, Moncayo demonstrated "extraordinary dedication to public interest law activities while at Southwestern." During her four years in law school, Moncayo volunteered more than 200 public service hours with the Expungement Clinic, Justice Bus, Teen Court, high school outreach with the Mexican American Bar Association and the Latino Law Students Association, and the Hoover Street Elementary School Mock Trial. She also served on the Public Interest Law Committee (PILC) Board for three years as scholarship chair, vice-chair and chair, and helped raise over $60,000 for Southwestern's Summer Public Interest Grants Program. She spent her final semester participating in the Street Law Clinic and completing her yearlong externship at Children's Law Center. She plans to pursue public interest law full time after graduation.
"It feels amazing to be chosen to receive this award," Moncayo said. "The award will help my family as I await bar results. We have a 1½ year-old daughter to care for, and this will definitely help us survive. I sat with the Woolvertons at the Public Interest luncheon, and it was so amazing to see how humble, generous, and kind they are. I am so grateful to them!"
Professor Laura Cohen, Director of the Street Law Clinic and Public Service Programs, said that the volunteer efforts of 300 students were tallied and accounts for over 12,000 volunteer hours this year. But for graduating students, their public service efforts surpassed 20,000 hours cumulatively. "We're here to support and congratulate students who have done amazing work," Professor Cohen said. "Thank you for your energy, for your volunteerism and for your effort. You have helped your community."
Calderon, who is a third-year evening student said, "Southwestern has given me the opportunity to channel my passion toward public interest through its Immigration Law Clinic and its Public Interest Law Committee. I represented various clients in the Immigration Law Clinic, where I had the opportunity to empower individuals on their immigration matters. And, as PILC's vice-chair, I was able to help lead the Board in its fundraising efforts, where we continuously raised funds for PILC Grants so that Southwestern students may be able to engage in their own public interest efforts over the summer."
Hon. Mark Juhas of the Los Angeles Superior Court, who teaches Family Law and Community Property as a member of the adjunct faculty at Southwestern, was the keynote speaker. "Law school is difficult, and I'm in awe of all of you who have taken the time to help other people," he said. "You fill the gap between people who have the need and people who can fulfill that need."
As difficult as it can be to juggle coursework, jobs and family commitments during law school and in the profession, Judge Juhas urged students to always make time to use their legal expertise to help those in need. "If you let it, your job in the law will take all of your time," he said. "Have the courage to make time for pro bono work. Tell your colleagues, and encourage them to do it, too. Make pro bono service part of the fabric of your career. You will not be sorry you did."
Southwestern's public service policy encourages all students to perform pro bono public service each academic year.  Students who complete 25 hours of pro bono public service in a year receive a formal letter of recognition from the Dean. Furthermore, students who perform at least 75 hours of public service throughout their law school experience are recognized at commencement and a "Public Service Distinction" notation is included in their law school transcript.
To view more photos from this event, visit Southwestern's Flickr page.
Latest from the SW LAW BLOG